4 Days Desert Tour Fes To Marrakech
A 4 Days Desert Tour Fes To Marrakech is the ideal Fes to Marrakech itinerary includes stops in Azrou, the Merzouga Sahara Desert, the Erg Chebbi Dunes for a camel trek and an overnight stay in a desert camp, where visitors can meet nomadic people, as well as the Todra Gorges, Ouarzazate, and the Ait ben Haddou Kasbah.
It is highly advised to do this 4 Days Desert Tour Fes via the Erg Chebbi dunes in Merzouga. The itinerary includes a camel trek, a night in a desert tent, and two nights in the Sahara desert (the first in a hotel).
The tour gives you the chance to see the best of the southeast in just 4 days, observe Barbary Apes in the Azrou Cedar Forest, go on a sightseeing tour of the desert to see nomads who live there, explore caves, wander in Dades Valley or Todra Gorges, spend more time at sites, and have tea with a Berber family.
HIGHLIGHTS OF THE 4 Days Desert Tour Fes To Marrakech:
Day 1: Fes – Middle Atlas – Azrou – Merzouga Desert:
At 8:00 AM our 4 Days Desert Tour Fes To Marrakech via Sahara desert tour towards desert starts by driving past the gorgeous town of Ifrane, also called the Switzerland of Morocco for its unique weather and architecture. Our first stop along the way will be observing wild macaque monkeys in their natural habitat, at the cedar forest in Azrou.
We are going to resume our trip to Merzouga, passing through the valley of Ziz and its impressive palm groves, and therefore the city of Erfoud mostly known for its richness in natural fossils. Finally, we'll reach Merzouga where we ride on our camels that will lead us to the desert camp where we'll spend the night, under a starry desert night sky.
Day 2: Merzouga Desert Tour & Camel Trek (Night in Desert Camp)
After breakfast, we'll begin our exploration of the area by going to a community of people with dark skin who are originally from Mali to take in their music and way of life.
Then, after visiting Miffis Mines to learn more about how they operate, we'll travel through a gorgeous desert behind the dunes, where we'll stop for a warm beverage with some Bedouins before heading back to the hotel.
Your local guides will provide you with mounting and dismounting instructions as well as other useful safety advice before you start exploring the enigmatic Erg-Chebbi Sand Sea. Sleep in a tent like a Berber.
Day 3: Erg Chebbi – Rissani – Gorges Of Todgha – Valleys Of Dades:
On the morning of our second day 4 Days Desert Tour Fes To Marrakech, is best to get up early for lovely sunrise, after breakfast & shower return by camel ride / or 4*4 car towards Merzouga village departure to Rissani town. we will walk around the famous, traditional and largest Market in the area exploring the local-made goods and art crafts.
It's better to go to Rissani on one of the following days: Sunday, Tuesday and Thursday. These three days are the souk, so it's a good day for the people of the desert area that want to try and do shopping. Later we travel to Tinghir along the Tafilalt Oasis where we are able to stop to explore the traditional system of irrigation found there.
Arriving in Tinjdad town where we'll have free time for lunch. Then, continue to Tinghir to explore the stunning views of Todra valley & walk along Todra Gorge with its orange towering cliffs, the canyons of Todra Gorge are almost 1,000 feet deep, also a preferred place for climbers. we'll end our day in Boumalne Dades with its green valley, Dinner & overnight in a hotel / or Riad.
Day 4: Boumalne Dades – Rose Valley – Ouarzazate – Ait Ben Haddou – Atlas Mountains – Marrakech:
After breakfast, we'll travel to Ait Benhaddou Kasbah via the land of Roses and also the road of thousands of Kasbahs. After that, we arrive at Ouarzazate famed as "the Hollywood of Africa", where we'll stop to photograph the Kasbah Taourirte & visit a world-renowned cinema studio (Atlas studios).
Then we continue to the following point which is the ancient Kasbah of Ait-Benhaddou. This fortified walled city was built right on the caravan path between Marrakech and also the Sahara and was once a thriving sales outlet during the 17th century. Inside the high mud walls are 6 Kasbahs and a small number of homes. Ait Benhaddou has appeared in several movies, including Gladiator & Lawrence of Arabia.
After the visit to the Kasbah, we'll have a break to have lunch in a local restaurant. In the afternoon continue our tour to the ultimate point Marrakech via High Atlas Passes. On the road, we'll make stops to enjoy the stunning views of the mountain chain and Tizi N'tichka pass (2260m). to achieve Marrakech in the evening, drop you off at your accommodation and end of 4 Days Desert Tour Fes To Marrakech and Sahara & our services.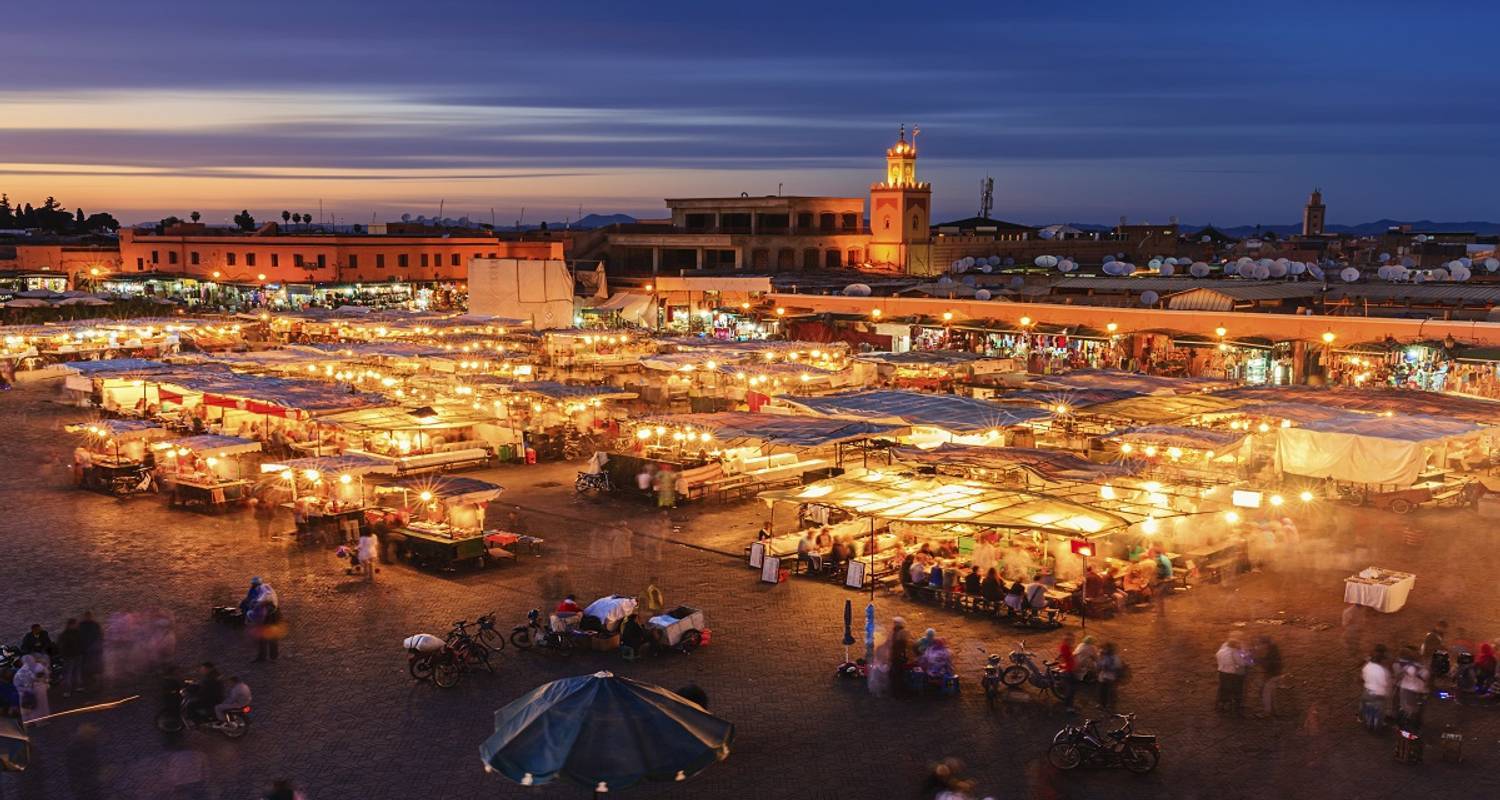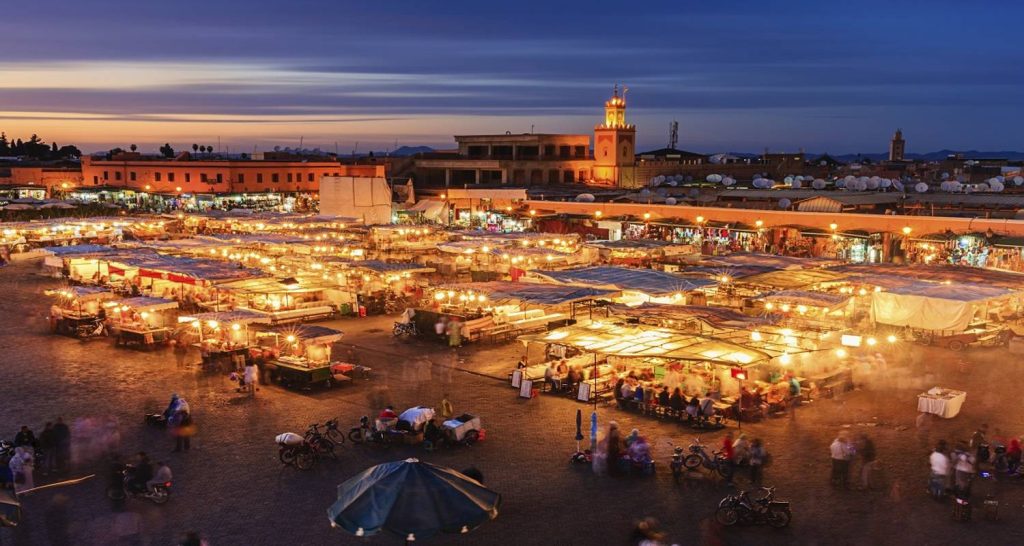 Note:
Please If the itineraries we offer do not meet your needs, please contact us. and tell us about your ideas, and one of our experts will contact you to help you create a one-of-a-kind trip…