9 Days Tour From Casablanca
Take pleasure in your 9 days tour from Casablanca to Marrakech. Best trips to the desert and cultural experiences. Beginning in Casablanca and Chefchaouen, you will then travel through the imperial cities of Meknes and Fes, the Desert for an exciting camel ride through the sand dunes, and Agadir and Essaouira to take in the scenery of the Atlas Mountains before arriving at Marrakech to complete your exotic 9-day trip to Morocco.
Stop at Azrou cedar forest and see Barbary Apes
Panoramic aspects of Erg Chebbi dunes
Experience Camel ride in Merzouga Sahara
Watch Sunset over the sand dunes
Do Sand Boarding activity
Hearty dinner and party around the campfire (Berber Drums)
Overnight Camping at Merzouga Desert Camp
Visit the UNESCO world heritage of Ait Ben Haddou Kasbah
Spectacular views of the Atlas Mountains landscapes
Roam the idyllic blue alleyways of Chefchaouen
Explore the imperial city of Fes
Ride camel in the Sahara desert
Spend a night at Desert camp
Discover Agadir and Essaouira
A day in Marrakech
end in Casablanca
Day 1: Casablanca to Chefchaouen and Rabat
Greetings from Casablanca! Meet your tour guide at the Casablanca airport or your lodging, then depart for Chefchaouen in the north of Morocco, traveling through several Rif mountains en route. Before reaching Chefchaouen, stop by Rabat's Hassan Tower, an incomplete minaret that is nonetheless worthwhile of a visit. Keep on to Akchour for another 1-2 hours to appreciate the Cascades d'Akchour by hiking in the little pools.
Make use of your free time in the afternoon to pursue your own interests. Investigate Plaza Outa el-Hammam, the central plaza so named because it once had many hammams (public baths) surrounding it. In a neighborhood restaurant, drink mint tea while admiring the breathtaking scenery. Get lost in the tiny, blue-painted walls. Take every gorgeous, romantic picture you can. Later in the day, the day arrives at the Spanish mosque to take in the most recent vista of Chefchaouen's blue metropolis. Visit a nearby Riad with a breathtaking view.
Day 2: Roman Volubilis and Meknes end in the day Fes
You will be able to tour two imperial cities today (Meknes, and Fes). awaken early in the morning to travel to Fes and take images in the streets with fewer people than previously. Stop at the Roman ruins in Volubilis, which are protected by UNESCO. The ancient Kingdom of Mauritania's capital was founded in the third century BC, and the Roman Empire transformed it into a significant location with buildings and fine effects. Despite being unfinished, the building is nonetheless exciting to discover.
As you approach Meknes, your second imperial city, keep going. make sure to stop at the Royal Stables, the Moulay Ismail Mausoleum, and Bab El-Mansour Gate. The day departs for Fes later. Spend the night at a local riad.
day 3: Discover the imperial city of Fes
This day will be spent on Fes exploration. Fes is divided into two parts, Fes el Jdid, and Fes el Bali. Start in Fes el Bali, explore the medieval medina, stroll through the historic district, continue to Bab Boujeloud gate, and enter Talâa Kebira's major road.
Leave for Al Attarine Madrasa (Al Attarine school), which is regarded as one of the pinnacles of Marinid architecture because of its elaborate and pleasing to the eye décor and effective use of its constrained area. proceed to Al-Qarawiyyin University, which is a college in Fez. Fatima al-Fihri established it as a mosque in 859, and it later became known as one of the major spiritual and academic capitals of the ancient Muslim world.
Go to Fes el Jadid to see the contemporary city. To enjoy the moment, climb over the city's rooftop. you be brought to your Riad.
Day 4: Fes - Ifrane - Azrou - Erfoud - Merzouga
Most of the day will be spent relaxing at the hotel or exploring the tiny but interesting desert towns.
In the afternoon, you'll depart in some 4-wheel drive vehicles across the barren land to the majestic Sahara sand dunes.
You will set out by camel for a 1/2-hour trek out onto the dunes to observe the sunset. you will spend the night in Berber tents (Dinner is included).
Day 5: Sahara Desert Tour – Camel Trekking
After breakfast, you have a lot of ground to cover. Travel to Merzouga in southern Morocco from Fes. Leave Fes and travel to Ifrane, which is a small version of Switzerland in Morocco. before traveling to Azrou's magnificent cedar woodlands. before traveling to Midelt for lunch, take in barbary apes and beautiful pictures. Arrive at Ziz valley after passing through the Middle Atlas mountains to see the second-largest palm trees in Morocco.
Continue to Erfoud, the entrance to the Sahara desert, which is also noted for its fossils, and discover how they transform a straightforward fossil rock into a lovely ornament. Continue to Erg Chebbi, a 13.5 square mile sea of sand dunes (35 square km). Be prepared to ride your individual camel for one to two hours and take in the breathtaking scenery from the top of the Erg Chebbi dunes. Dinner will be served to you once you get to your opulent desert camp. After that, you can listen to Berber music by the campfire and spend the night in your own tent.
Day 6: Merzouga - Todra gorges and Dades via several Berber villages
Get up early to watch the sunrise atop the Erg Chebbi dune before practicing your sandboarding techniques in the Sahara desert. To go back to your local accommodation for breakfast and a quick wash, take a camel ride. Roll on to Rissani's traditional market as you continue on your trek into the Draa Valley and Dades Gorges. Continue through a number of Berber communities in the desert to reach Todra Gorges.
Once you get in Todra, you will be able to traverse beneath 300-meter-tall boulders and perhaps even catch a glimpse of rock climbers in action. Spend your spare time unwinding in front of the cool Todra River's modest waters. Travel to Dades and stay the night at a riad or hotel there.
Day 7: Dades Valley - Ait Ben Haddou - Marrakech
We'll travel through the Dades Valley on our way to Kalaat Mgouna and Ouarzazate after breakfast. Reported that the road of a thousand Kasbahs is the name of the route across Dades Valley. Therefore, there are many opportunities to capture some of your best trip-related photos.
Later on, in this 9 days tour from Casablanca to Marrakech and Sahara, we'll make a stop in Kalaat Mgouna, often known as "the rose city," to buy rosewater, which will keep your linens smelling fresh for a long time after your trip. proceed to Ouarzazate, "the Hollywood of Africa," after that.
The most significant and substantial Kasbah in Morocco, Ait Ben Haddou, then will serve lunch. It has been recognized as a World Heritage Site by UNESCO. It is well-known for serving as the setting for numerous movies, such as "Lawrence of Arabia," "Gladiator," "Game of Thrones," etc.
Before reaching your accommodation in Marrakech, where the tour comes to a conclusion, we will continue our journey across the magnificent Tizi 'n' Tichka pass (2260 m) over the High Atlas Mountains. Here, you can also stop to learn more about how argan oil is made at women's cooperatives.
Day 8: Marrakech City Tour With Local Guide
With a competent tour guide by your side, you will enjoy Marrakech's city tour after breakfast. The tour begins with the majestic Koutoubia Mosque, a Marrakech icon that served as an inspiration for other structures including the Giralda in Seville and the Hassan Tower in Rabat. The Bahia Palace and the Saadian Tombs are your next stop.
The Saadian tombs in Marrakech are believed to have been built during the reign of Sultan Ahmad al-Mansur. The Beaux-arts service renovated the tombs after they were found in 1917. About sixty descendants of the Saadian Dynasty, which began in the valley of the Draa River, are buried at the grave.
You proceed to the renowned Jemaa el Fna Square after lunch, where you'll find a wide variety of delicacies, snake charmers, regional musicians, and fortune tellers. The Jemaa el Fna, the central plaza of old Marrakech, is unlike any other place on earth. Additionally, when you stroll around the souks, you may see hundreds of handmade items. Overnight at the Riad.
Day 9: Marrakech » Casablanca airport
Transferring to Casablanca Mohammed V International Airport from Marrakech will allow you to board your return plane with many stories of your time in the Arabian and Berber nightlife.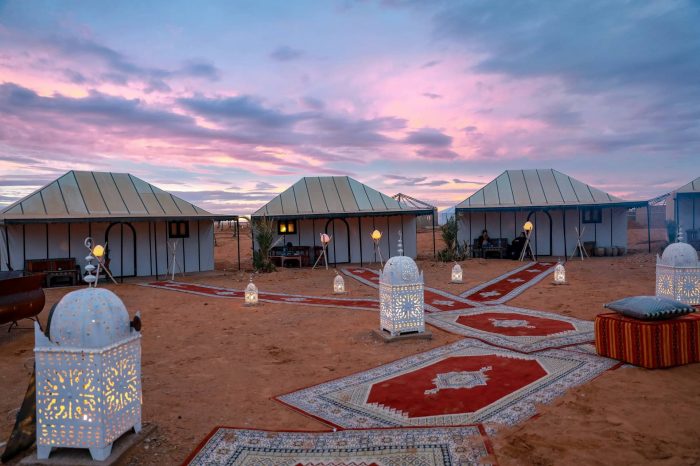 What clients say about us:
3 day trip Fez to Marrakesh Amazing trip! We had Mohammed as a guide and he was so sweet and caring. The advantage of being in a small group is that you get to stop wherever you want to take pictures, you simply need to ask! We are backpackers so we weren't too sure about the hole organized trip thing but it was perfect as we were in a small group and had a lot of freedom! Thank you so much Mohammed for this amazing time!
Viagem Incrível A viagem foi incrível, curti vários lugares, experiência única que vale muito a pena, um país com uma cultura marcante e pessoas acolhedoras, recomendo conhecer Marrocos.
"Magical Trip in Morocco" I'm so glad I found this travel agency to be my host in my trip. They provide extraordinary programs, which we wholeheartedly recommend to all who want to see the real Morocco. The food and clothing that this country have are very unique and worth the whole way here, and sleeping in the desert camp under the open sky, where only the sky is our blanket is magical. You can go by riding camels or take a 4×4 they back to the hotel which gives you the choice to choose your best way. The attendants are very kind and provide a high quality service. If you are planning to visit this wonderful country, make sure to rely on this agency and you are guaranteed to have a magical experience. Add this in the end... Thank you Hassan, and see you soon again Let's Visit Morocco
A New Fave Destination "Expectation vs. Reality" the line I want to describe about Morocco.😊 At first, I don't have high expectation about the country but when I landed on it, I felt "WOW". I felt like I am in my comfort zone. The travel agency is so accommodating and friendly. They entertain and guide all of us in every destination. So far, All of the places had a really great impact just like ice cream that have so many flavors that in every taste of it, you feel satisfied! It was really a great experience and a new fave destination that I want to go back and where my heart felt at ease. I really recommend this place and the travel agency for a worthy and memorable travel. ❤️❤️❤️❤️❤️❤️
Incredible and exotic Morocco worth a visit more than looking at pics or videos. Amazing food, accommodations and wonderful sightseeing and World Heritage sites. Highly recommended!!! Come travel, explore and discover Morocco!!!
"lo mejor de lo mejor" "Marruecos es un gran lugar para visitar y el uso de los servicios de esta compañía lo haría muy especial y memorable. Excelentes servicios y muy amigables y responderían todas las preguntas necesarias para conocer este país cultural"✌️😇
Paseo 🙂 Fuimos a Marruecos con mis amigos y fue una experiencia muy agradable, una organización increíble y el servicio que prestaban era impresionante,te explican muy bien si tenías alguna duda. La gente que trabaja es muy amigable y sociable. Pasamos un paseo inolvidable y la experiencia adquirida fue única, muy recomendable visiten Marruecos no se arrepentirán.
Grandes vacaciones Marruecos maravilloso Un viaje excelente, con un servicio de primera. Quisiera volver a repertir esa experiencia maravillosa.
Why don't you take the opportunity now? The tours offered here show a very attractive point of view of Morocco, definitely recomended! The guide Hassan will welcome you, and solve all of your questions in a way that will make you feel like at home.
"Marruecos con let's visit Marroco" Gran tour a Marruecos, los lugares, la historia que te explican, la paciencia que tiene al explicar todo, mostrar la cultura del lugar, muy recomendable 👌.
Note:
Please If the itineraries we offer do not meet your needs, please contact us. and tell us about your ideas, and one of our experts will contact you to help you create a one-of-a-kind trip…
4 Days Desert Tour From Casablanca
7 Days Tour From Casablanca
10 Days Desert Tour From Casablanca
15 Days Tour From Casablanca