Best 11 days Tour from tangier to marrakech via sahara desert
 OVERVIEW:
  Discover Morocco in an interesting 11 days tour from Tangier to Marrakech. Activities and attractions in Morocco. Starting in Tangier, you will visit mosques, and discover the blue city of Chefchaouen, Fes, and other ancient cities. Experience an incredible excursion getting to know the nomad.
It covers lots of ground in 11 days, but the pace of your trip is slow enough to show all of Morocco's "Must Sees" into an experience. This Morocco classic tour will allow you to truly hit all of the highlights that this country has got to offer.
Highlights Of 11 Days Tour From Tangier:
Chefchaouen
Fes
Ifrane ( The Switzerland of Morocco)
Ceder Forrest ( Monkeys)
The Middle Atlas Mountains
Ziz Valley & Gorge
Erg Chebbi dunes ( Merzouga)
Todra Valley & gorge
Rose and Dades valley
Skoura oasis
Ouarzazate (Film Studios)
Ksar Ait Ben Haddou
The High Atlas Mountain
Ouzoud Waterfalls
Marrakech
Essaouira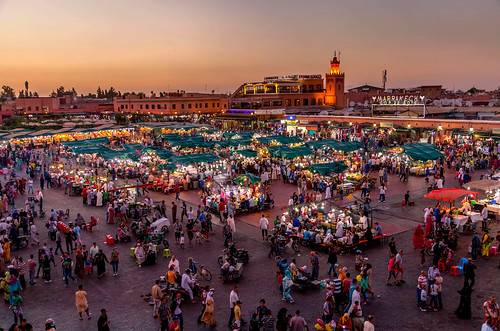 Day 1: Tangier – Chefchaouen-Fes

 

tangier to marrakech



We begin our 11 days tour from Tangier to Marrakech at the city of Tangier, from which we will drive in the middle of the Rif Mountains, by the city of Tetouan, until finally arriving at the city of Chefchaouen. This little city, called the blue pearl, has beautiful landscapes to offer, which you will get to enjoy from the top of a café or restaurant. Finally, we will arrive at Fes in the early evening, where we will have dinner and spend the night at a traditional Riad. travel from tangier

Day 2: Fes Sightseeing
This day will start after your local guide comes to pick you up from your accommodation. Fes is a beautiful city that doesn´t fall short on the amazing things it has to offer: from artisanal crafts to traditional food, passing by souk markets… etc.
You will get to experience a whole new world as you´ve never seen before. Fes is also home to the oldest university in the world, the Karaouine University, which you will visit alongside the rest of the old Medina, a recognized UNESCO world heritage.
We will walk around the narrow streets and alleyways of the old medina, as well as visit the Royal Palace and the city´s Jewish district, the Mellah.
Day 3: Fes – Ifrane – Midelt – Merzouga
We will start our trip toward the Sahara desert by driving past the beautiful town of Ifrane, also called the Switzerland of Morocco for its unique weather and architecture. Our first stop along the way will be to observe wild macaque monkeys in their natural habitat, at the cedar forest in Azrou.
We will resume our trip to Merzouga, passing through the valley of Ziz and its impressive palm groves, and the city of Erfoud that´s mostly known for its richness in natural fossils. Finally, we will arrive at Merzouga, the Sahara desert, where we will be surrounded by the dunes of Erg Chebbi.
Day 4: Merzouga – Erg Chebbi-Merzouga
We will have breakfast, then ride our 4×4 vehicles until we reach the oasis Tissartmin or Rissani city. This is where we will find the village of Khamlia, which is a village where would meet indigenous nomads live. During the afternoon, we will meet the camel Caravan; which will take us to a desert camp where you get to enjoy a breathtaking view of the sunset.
After that, you will spend a magical night, being under a blanket of stars in the sky, and accompanied by live Berber music.
Day 5: Merzouga – Rissani – Tinghir – Ouarzazate
This next day we will make sure to wake you up in time to witness the beautiful sunrise over the desert dunes. We will then have breakfast at the camp before riding camels again until we reach our vehicles.
After that, we will head straight to Rissani, which is home to the biggest marketplace in the area. After lunch, we will continue driving, passing by the towns of Tzarina and N'kob, to finally reach the Draa' valley. We will stop here as much as needed in order to be able to grasp the true beauty of the place. After driving through an area called the anti-Atlas. Finally, we will arrive at Ouarzazate where we will have dinner and spend the night.
Day 6: Ouarzazate – Ait Ben Haddou – Essaouira
After having breakfast, we will explore Ouarzazate or the Hollywood of Morocco. It takes this name for being home to Morocco's biggest and most important film studios, which we might pay a visit. Next, we will drive to the neighboring Kasbah of Ait Ben Haddou, which is an ancient traditional fortified Ksar, a UNESCO world heritage, and the filming location for many important international movies.
We will finally head to the city of Essaouira, driving through the mountains of the High Atlas. A specific mountain pass that we will drive through is the Tizi-N-Tichka pass, which contains beautiful panoramic views over the mountains, being as high as 2260 meters. You will be provided with an overnight stay in Essaouira.
Day 7: Essaouira Sightseeing
Today you will be free to explore this city however you like. Keep in mind that the old Medina of Essaouira is a recognized UNESCO world heritage, so take your time to truly appreciate it. You may also try some of the city's fresh seafood if you wish.
Day 8: Essaouira – Marrackech
After having breakfast at Essaouira, we will leave for the red city, Marrakech. We will arrive just in time for you to be able to have enough free time, in order to explore Marrakech. You will be provided with an overnight stay.
Day 9: Marrakech Sightseeing
After breakfast at your accommodation, your certified local tour guide will come to pick you up in order to begin your exploration of the red city, Marrakech. This city is home to Jamaa´ El Fna, the busiest and biggest square in North Africa that holds many traditional artisanal sellers and merchants.
Marrakech has many other jewels to offer, that you will, of course, get to visit, such as the Majorelle and the Menara gardens, the Saadies tombs, the Bahia Palace, the Koutoubia Minaret, and many more. Finally, you will have dinner and spend the night in Marrakech.
Day 10: Marrakech – Ouzoud waterfalls – Marrakech
This day will be dedicated to exploring Morocco's most important waterfall site, The Ouzoud waterfalls, with the help of our experienced team members. We will meet many impressive palm groves and other kinds of greenery on our way.
Finally, at the waterfalls, you will have the chance to appreciate the mesmerizing 110 tall waterfalls. Finally, we will head back to Marrakech, which is one of the most important Moroccan imperial cities. It is also a highly recommended starting point.
Day 11: Marrakech-Airport
After having breakfast, we will arrange your transfer to the airport around 3 hours before the time of your flight where your 11 days from tour Tangier to Marrakech ends.
NOTE:

If our 11 days tour from Tangier to Marrakech do not suit your needs, contact us and we will prepare your trip according to your needs and requirements.
Included in this Tour
A private and very comfortable air-conditioned vehicle
Private English speaking driver/guide
Pick up and transfer at your Riad / Hotel/airport
Overnight in Dades gorges or Skoura or Ouarzazate in a traditional comfortable Hotel. Possibility to upgrade to a deluxe hotel on a private tour
Camel Trek to overnight in Luxury Camp with Ensuite-bathroom and shower
Private rooms/tents
Dinner and breakfast are daily included except chefchaouen and Marrakech 
Free time to explore the sites such as Ait Ben Haddou kasbah, Walks, Canyons, Breaks for photos,…Etc
Ait Ben Haddou
No forced shopping
No hidden costs
Not included in this Tour
  Book now for the best holiday
When is the best time to visit Morocco?
There is really no time of year where you wouldn't enjoy your trip to Morocco; although you should keep in mind that it tends to get a little too crowded with tourists during the winter holidays season. Then it's up to you to decide what season suits you the best to come visit, according to your schedule and preferences.
The weather in Morocco is more on the mild side during Spring and Autumn (from March to May and from September to November respectively). For these seasons the temperatures could be ranging anywhere from 11° to 32°C. Winter usually lasts from December to February, with a relatively low temperature range (7° to 21°C). You should also expect to see snowfall in Morocco's mountainous regions. As for Summer (from June to August), temperatures can land anywhere between 19°C and 40°C in the middle of the day.
When is the peak season to visit Morocco?
The tourist flow in Morocco reaches its peak during December and April of each year, for these are the holiday seasons. The emerging high demand for accommodations during these months makes the prices go up very significantly in comparison to other months, and all of the best accommodations get booked up very early on. Therefore, if you're thinking of coming during one of these seasons, we suggest you start looking in advance, in order to have enough time to find an accommodation that suits your needs. We would also suggest you avoid these months altogether, so that you'll be able to get the best out of your Morocco experience.
Are the tours private?
Yes! The tours our company offers are all completely private. This will allow to experience Morocco the way YOU want to. In addition to that, you will of course be always welcome to request stops along the way during the tours, in order to take memorable photographs (or whatever other reason you want!).
In case you are interested in booking a group desert tour, please go ahead and contact our sister company: Morocco Epic Tours.
Will the price be the same if we are 2, 3 or more persons?
The price for each individual person participating in the tours goes lower the more people there are in the group participating.
Will the price be cheaper for last minute booking?
Actually, it could be quite the opposite. Our team makes sure to select the best quality accommodations for our clients, and those tend to get booked full pretty quickly, that's why it's not always easy for us to accommodate last minute bookings. Therefore, you shouldn't expect a lower price for such inquiries, but instead a higher one maybe.
To avoid such incidents, we strongly advise you to book your tour with us early on, so that we will be able to pick out the best accommodations for you, and offer you an unforgettable Morocco experience.
Or contact us for more information
10%

OFF
for group tours, explore the original of Morocco
15%

OFF
for students, discover the top-rated destinations in Morocco