2 Days Tour From Fez To Chefchaouen
Best 2 days Tour From Fez To Chefchaouen
OVERVIEW:
This 2 Days tour from Fez to Chefchaouen expedition to explore the blue town of Chefchaouen in a very full day. The private excursion to Morocco's Blue Pearl leaves at 8:30 AM from your accommodation. Upon arrival in Chefchaouen, you'll independently explore its historical medina, narrow streets with blue and white-washed walls, and typical cafes, still exploring the native culture.
Visit the gorgeous and unique village of Chefchaouen from Fes on a 2-day trip that gives you free time to explore the blue-tinged architecture, historic center, and atmospheric cafes of the Rif Mountain community. This tour includes transportation within the comfort of a climate-controlled vehicle, an experienced English-speaking driver with convenient pickup and drop-off at your accommodations in Fes.
HERE ARE HIGHLIGHTS OF 2 DAYS TOUR FROM FEZ TO CHEFCHAOUEN:
Explore the Berber culture and meet the Rif Berbers
Explore the city of Chefchaouen at your own pace.
Visit the Kasbah of chefchaouen
Enjoy the colorful walls and streets of the blue city.
Enjoy a traditional lunch in a local restaurant.
Enjoy the beautiful landscapes along the way to Ouazzane and Chefchaouen.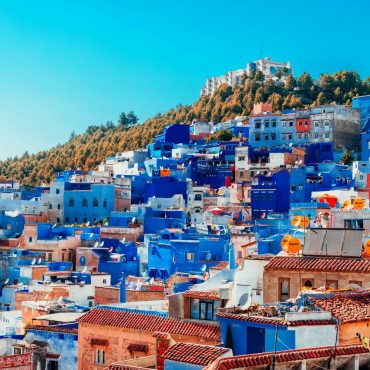 1 DAY : FEZ TO MEKNES [VOLUBILIS] TO CHECHAOUEN:
Our Lets Visit Morocco driver will meet you in front of your Riad or hotel in Fes and take you to the Rif's mountains; Chefchaouen or Chaouen as it's called by locals, beautifully perched beneath the raw peaks of the Rif. On our way, we make the first stop in Volubilis which are the ruins of the roman empire in Morocco.
After the visit, we continue our way to Chaouen. Chefchaouen is one of the prettiest towns in Morocco, known for the striking, blue, and washed buildings of its old city. The old medina is a delight of Moroccan and Andalusian influence with red-tiled roofs, bright-blue buildings, and narrow lanes converging on busy Plaza Uta El Hammam and its restored Kasbah. the city has for long been known to backpackers and the town has rapidly gentrified and offers a range of quality accommodation, good food, and lots to do, which makes it a strong alternative to a busy multicity tour.
Overnight will be spent in the hotel or riad.
DAY 2: CHEFCHAOUEN TO FEZ
Today, you'll have enough time to discover the area. Wander aimlessly through the narrow streets & alleys, painted in an endless array of blue — turquoise, powder blue, celeste, and robin's-egg, indigo, cyan, and periwinkle. go shopping for colorful blankets or lamps in the souks hidden throughout the medina. Marvel at the variety of lovely doorways and detailed tile work that decorates each residence. Sit down at a street cafe, order a steaming glass of mint tea, and watch locals dressed in jellaba robes go about their daily life. Soak it all in — the whole Moroccan experience.
In the afternoon we'll return to Fez and leave you at your accommodation where our 2 days tour from Fez to Chefchaouen comes to an end. Thanks for your lovely visit.
NOTE:
If our 2 days from Fez to Chefchaouen do not suit your needs, contact us and we will prepare your trip according to your needs and requirements.
Not included in this Tour
Send Us An Inquiry
Or contact us for more information
When is the best time to visit Morocco?
There is really no time of year where you wouldn't enjoy your trip to Morocco; although you should keep in mind that it tends to get a little too crowded with tourists during the winter holidays season. Then it's up to you to decide what season suits you the best to come visit, according to your schedule and preferences.
The weather in Morocco is more on the mild side during Spring and Autumn (from March to May and from September to November respectively). For these seasons the temperatures could be ranging anywhere from 11° to 32°C. Winter usually lasts from December to February, with a relatively low temperature range (7° to 21°C). You should also expect to see snowfall in Morocco's mountainous regions. As for Summer (from June to August), temperatures can land anywhere between 19°C and 40°C in the middle of the day.
When is the peak season to visit Morocco?
The tourist flow in Morocco reaches its peak during December and April of each year, for these are the holiday seasons. The emerging high demand for accommodations during these months makes the prices go up very significantly in comparison to other months, and all of the best accommodations get booked up very early on.
Therefore, if you're thinking of coming during one of these seasons, we suggest you start looking in advance, in order to have enough time to find an accommodation that suits your needs. We would also suggest you avoid these months altogether, so that you'll be able to get the best out of your Morocco experience.
Are the tours private?
Yes! The tours our company offers are all completely private. This will allow to experience Morocco the way YOU want to. In addition to that, you will of course be always welcome to request stops along the way during the tours, in order to take memorable photographs (or whatever other reason you want!).
In case you are interested in booking a group desert tour, please go ahead and contact us and we will make you the best group tour.
Will the price be the same if we are 2, 3 or more persons?
The price for each individual person participating in the tours goes lower the more people there are in the group participating.
Will the price be cheaper for last minute booking?
Actually, it could be quite the opposite. Our team makes sure to select the best quality accommodations for our clients, and those tend to get booked full pretty quickly, that's why it's not always easy for us to accommodate last minute bookings.
Therefore, you shouldn't expect a lower price for such inquiries, but instead a higher one maybe. To avoid such incidents, we strongly advise you to book your tour with us early on, so that we will be able to pick out the best accommodations for you, and offer you an unforgettable Morocco experience.
10%

OFF
for group tours, explore the original of Morocco
15%

OFF
for students, discover the top-rated destinations in Morocco