Best 2 days tour from Marrakech to Zagora
OVERVIEW
Your private 2 days tour from Marrakech to Zagora is the best opportunity to explore Morocco's southeastern Sahara desert. This is the best overnight Sahara trip from Marrakech: It will present you to the Saharan landscapes of Draa Valley and Zagora rock desert by driving across the High Atlas mountains and walking to Ait Ben Haddou kasbah.
By the end of the day, you will be riding your camels with starring at a breathtaking sunset. At night, you will join the Berber nomads playing their traditional music around the camp fine. That would be the highlights of your 2 days tour from Marrakech.
2-Day Marrakech to Zagora Desert Tour Highlights:
Cross the High Atlas Mountains & Tizi Ntichka pass.
Visit the UNESCO world heritage site of Casbah Ait Ben Haddou
Drive along Draa Valley, famous for its date palm tree plantations
Enjoy a spectacular Zagora desert sunset camel ride
Spend the night in a Berber desert camp in Zagora
Visit Ouarzazate the Gate to Morocco's Sahara desert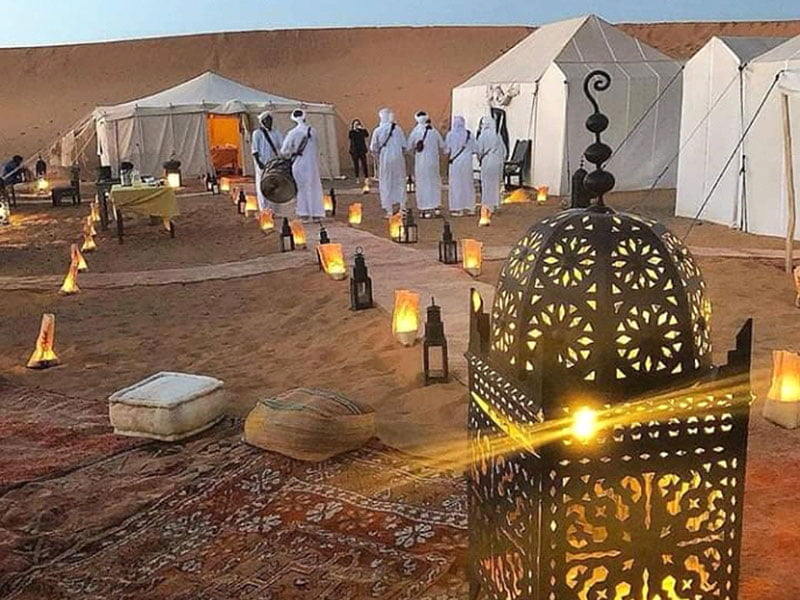 Day 1. Marrakech – Ait Ben Haddou – Draâ Valley – Zagora
Our 2 days tour from Marrakech to Zagora will start at Marrakech, from which we will head to our first destination, the city of Ouarzazate.
We will pay a quick visit to the Kasbah of Ait Ben-Haddou so that you can explore the beauty of the World Heritage site. We will then continue driving towards Zagora.
On our way, we will drive through the anti-Atlas and meet many Berber villages, including the village of Agdez. Then we will reach the Draa Valley and explore its impressive palm groves, which represent the last bit of vegetation we will see before entering the Sahara zone.
Once we finally reach Zagora, you will get to ride in the back of friendly camels through the desert dunes, enjoying a breathtaking sunset.
You will enjoy a traditional Berber dinner, after which you will spend the night in a Nomad-style desert camp, equipped with bathrooms and anything you might need. Spending a night under a blanket of a starry night sky will truly be an unforgettable experience.
Day 2. Zagora –Draâ Valley– Ouarzazate- Marrakech
We will make sure to wake you up in time to witness the beautiful sunrise over the desert dunes, which is one of the most precious views that the desert has to offer.
We will then enjoy a breakfast meal at the camp, after which we will head back to Zagora, riding camels once more.
Continuing our excursion, we will drive through the valley of Draa and Agdez village, to finally get to Ouarzazate. We will then explore the local Kasbah of Taourirt.
We will enjoy a good lunch either at Ouarzazate or Agdez.
Finally, we will take the road towards Marrakech where our 2 days tour from Marrakech to Zagora ends.
NOTE:

If our 2 days from Marrakech to Zagora do not suit your needs, contact us and we will prepare your trip according to your needs and requirements.
Included in this Tour
A private and very comfortable air conditioned vehicle
Private English speaking driver/guide
Pick up and transfer at your Riad / Hotel / airport

Overnight at Zagora dunes desert camp including camel trekking, dinner and breakfast. ( Private tents can only be guaranteed if you upgrade to the comfortable camp ).
Not included in this Tour
Send Us An Inquiry
Or contact us for more information
10%

OFF
for group tours, explore the original of Morocco
15%

OFF
for students, discover the top-rated destinations in Morocco