Best 3 Days From Fes To Marrakech Via Sahara Desert Tour
Overview
A 3 days from Fes to Marrakech via sahara desert tour will take you from Fes to Marrakech, passing through the atlas mountains and Morocco's huge Sahara. Our 3 day private Fes to Marrakech Desert tour is the ideal thanks to see the best of Morocco: cedar forests, lush green oases, sand dunes, canyons, and brick Kasbahs within the Middle atlas mountains.
Despite the actual fact that the tour covers an oversized area of Morocco during a short amount of your time, the breathtaking scenery will never bore you.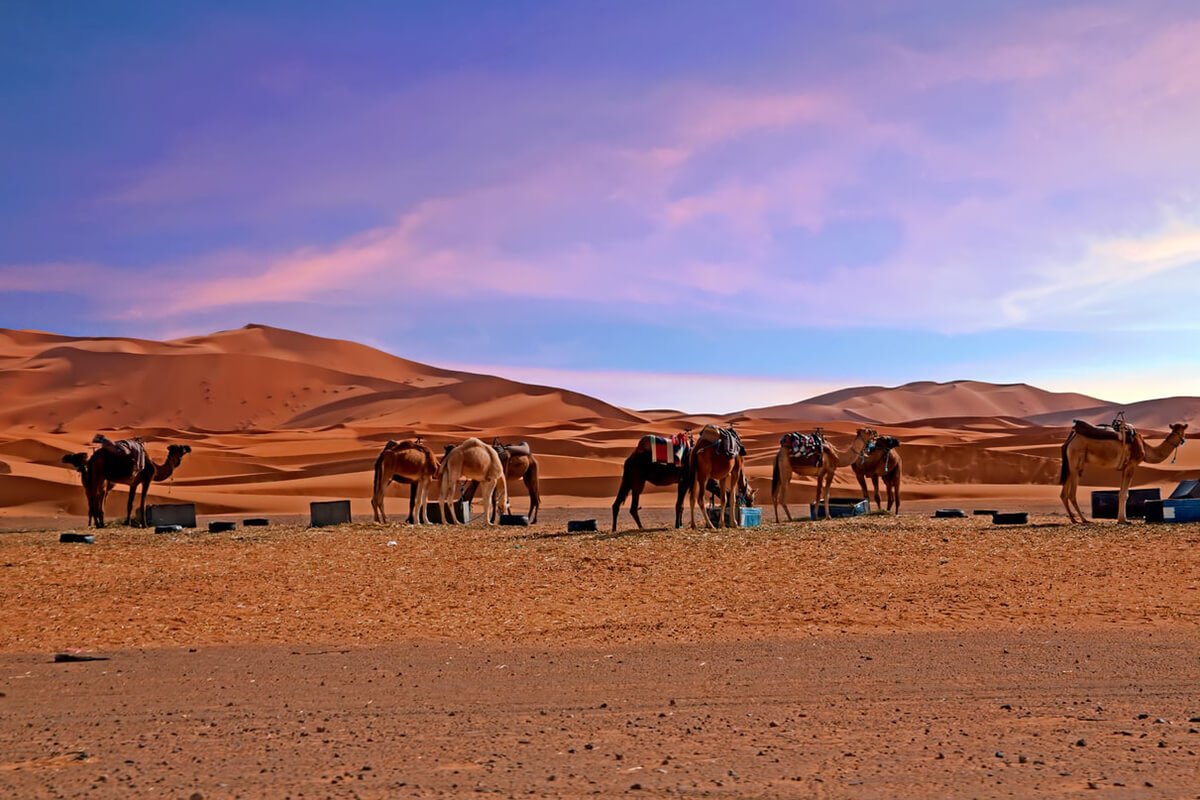 Day 1: Fes – Middle Atlas – Azrou – Merzouga desert:
At 8:00 AM our 3 days from Fes to Marrakech via Sahara desert tour towards the desert starts by driving past the gorgeous town of Ifrane, also called the Switzerland of Morocco for its unique weather and architecture. Our first stop along the way will be observing wild macaque monkeys in their natural habitat, at the cedar forest in Azrou.
We are going to resume our trip to Merzouga, passing through the valley of Ziz and its impressive palm groves, and therefore the city of Erfoud´s mostly known for its richness in natural fossils. Finally, we'll reach Merzouga where we ride on our of camels that will lead us to the desert camp where we'll spend the night, under a starry desert night sky.
Day 2: Erg Chabbi – Rissani – Gorges of Todra – Valleys of Dades:
In morning of our second day 3 days from Fes to Marrakech via desert tour, is best to get up early for lovely sunrise, after breakfast & shower return by camel ride / or 4*4 car towards Merzouga village departure to Rissani town. we will walk around the famous, traditional and largest Market of the area exploring the local-made goods and art crafts.
It's better to go to Rissani in one amongst the following days: Sunday, Tuesday and Thursday. In these three days is souk, so it's good days for the people of desert area that want to try and do shopping. Later we travel to Tinghir along the Tafilalt Oasis where we are able to stop to explore the traditional system of irrigation found there.
Arriving to Tinjdad town where we'll have free time for lunch. Then, continuing to Tinghir to explore the stunning views of Todra valley & walk along Todra Gorge with it orange towering cliffs, the canyons of Todra Gorge are almost 1,000 feet deep, also its a preferred place for the climbers. we'll end our day in Boumalne Dades with its green valley, Dinner & overnight in a hotel / or Riad.
Day 3:  Boumalne dades – Rose Valley – Ouarzazate – Ait Ben Haddou – Atlas Mountains – Marrakech:
After breakfast, we'll travel Ait Benhaddou Kasbah via land of Roses and also the road of thousands Kasbahs. After that we arrive to Ouarzazate famed as "the Hollywood of Africa", where we'll stop to photograph the Kasbah Taourirte & visit world renowned cinema studio (Atlas studios).
Then we continue to the following point which is the ancient Kasbah of Ait-Benhaddou. This fortified walled city was built right the caravan path between Marrakech and also the Sahara and was once a thriving sales outlet during the 17th century. Inside the high mud walls are 6 Kasbahs and a small number of homes. Ait Benhaddou has appeared in several movies, including Gladiator & Lawrence of Arabia.
After visit of the Kasbah, we'll have a break to have lunch in local restaurant. In the afternoon continue our tour to the ultimate point Marrakech via High Atlas Passes. On the road we'll make stops to enjoy the stunning views of the mountain chain and Tizi N'tichka pass (2260m). to achieve Marrakech in the evening, drop you off at your accommodation and end of 3 Days from Fes to Marrakech via Sahara Desert tour & our services.
NOTE:

If our 3 days from Fes to Marrakech via Sahara desert tour do not suit your needs, contact us and we will prepare your trip according to your needs and requirements.
Included in this Tour
A private and very comfortable air-conditioned vehicle
Private English speaking driver/guide
Pick up and transfer at your Riad / Hotel/airport

Overnight in the desert camp.

Accommodation for one night in Hotel.




Two breakfasts and dinners (vegetarians are welcome).

 Visit Ait Ben Haddou Kasbah.


Bottle water and scarf each one for the camel trip.
Not included in this Tour
Lunch
Drinks
Tips

Entrance fees.



Send Us An Inquiry
When is the best time to visit Morocco?
There is really no time of year where you wouldn't enjoy your trip to Morocco; although you should keep in mind that it tends to get a little too crowded with tourists during the winter holidays season. Then it's up to you to decide what season suits you the best to come visit, according to your schedule and preferences. The weather in Morocco is more on the mild side during Spring and Autumn (from March to May and from September to November respectively). For these seasons the temperatures could be ranging anywhere from 11° to 32°C. Winter usually lasts from December to February, with a relatively low temperature range (7° to 21°C). You should also expect to see snowfall in Morocco's mountainous regions. As for Summer (from June to August), temperatures can land anywhere between 19°C and 40°C in the middle of the day.
When is the peak season to visit Morocco?
The tourist flow in Morocco reaches its peak during December and April of each year, for these are the holiday seasons. The emerging high demand for accommodations during these months makes the prices go up very significantly in comparison to other months, and all of the best accommodations get booked up very early on.
Therefore, if you're thinking of coming during one of these seasons, we suggest you start looking in advance, in order to have enough time to find an accommodation that suits your needs. We would also suggest you avoid these months altogether, so that you'll be able to get the best out of your Morocco experience.
Are the tours private?
Yes! The tours our company offers are all completely private. This will allow to experience Morocco the way YOU want to. In addition to that, you will of course be always welcome to request stops along the way during the tours, in order to take memorable photographs (or whatever other reason you want!).
In case you are interested in booking a group desert tour, please go ahead and contact us and we make you the best group tour.
Will the price be the same if we are 2, 3 or more persons?
The price for each individual person participating in the tours goes lower the more people there are in the group participating.
Will the price be cheaper for last minute booking?
Actually, it could be quite the opposite. Our team makes sure to select the best quality accommodations for our clients, and those tend to get booked full pretty quickly, that's why it's not always easy for us to accommodate last minute bookings.
Therefore, you shouldn't expect a lower price for such inquiries, but instead a higher one maybe. To avoid such incidents, we strongly advise you to book your tour with us early on, so that we will be able to pick out the best accommodations for you, and offer you an unforgettable Morocco experience.
Or contact us for more information
10%

OFF
for group tours, explore the original of Morocco
15%

OFF
for students, discover the top-rated destinations in Morocco