Best 6 DAYS tour FROM FES TO DESERT MERZOUGA AND MARRAKECH
Overview
Are you looking forward to visiting Morocco's deep south? If that's the case, you've come to the correct place. This 6-day trour from Fes to desert is intended to open extraordinary doors to once-in-a-lifetime experiences. You will be exposed to some of the top features that Morocco has to offer from beginning to end. From the cedar forests of the Middle Atlas Mountains to the snowcapped High Atlas Mountains, the palm-dotted Ziz Valley, and the Sahara Desert of Erg Chebbi with its glamping camping and spectacular camel ride. The canyons, the Kasbahs, and the enigmatic Marrakech are all part of a single memory.
Highlights of 6 Days Tour From Fes to Desert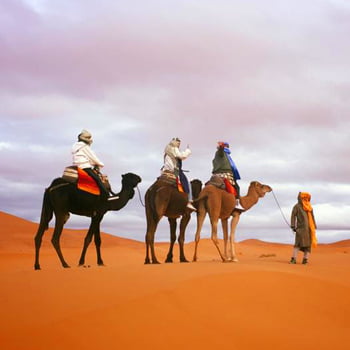 Day 1: Fes Sightseeing with a local guide
This 6 days tour from Fes to desert, starts from Fes we'll pick you up from your hotel/riad for a pleasant Fes Sightseeing guided tour in an air-conditioned vehicle and local bilingual guide.
In the first place, our fez tour will include: the Andalusia mosque which was built at the end of the 9th century, and tanners' quarters where leather produced is made, using only natural colors. El-Attarine Madrasa which was built in 1325, is the largest religious Quarraouine Mosque in the heart of the medina.
In addition, Azouia Moulay Idriss open to non-Muslim, Nejjarine Museum, Royal Palace, Bab Boujloud gate. we'll not complete our tour until we see the most important monuments. In the end, we'll drop you off back at your hotel/riad in Fez for (Night/dinner).
 Day 2: Fes – Azrou – Midelt
Next morning, after breakfast, we'll leave Fes to Midelt. Of course, we'll pass through Ifrane, a resort in a complete Moroccan style built in the 1930s by the French. Then, we'll visit cedar forests in Azrou to enjoy watching the monkeys.
Most of our day from Fes to Midelt will be through the attractive forests, springs, Berber villages… At the end of our travel, we'll reach Midelt and check the hotel/riad for (dinner/overnight).
Day 3: Midelt – Erfoud – Sahara desert
After breakfast, we'll continue our 6 days tour from Fes to Marrakech desert and Erg Chebbi dunes leaving from Midelt to the Merzouga desert. On our travel, we'll make many stops to capture photos, enjoy the cool air, and panoramic views, and see a large oasis of palm trees.
We'll reach Merzouga and check the hotel/riad for (dinner/overnight).
Day 4: Sahara desert Explore tour – Camel Trekking
On the next day, we'll leave to visit KHAMLIA village and enjoy listening to Gnawa music. Then, We'll visit deserted mines, Berber nomads, an oasis of palm trees…
Back to Merzouga for lunch and relaxation. In the evening, we'll take an adventure in the sand dunes by camels trek. The night will be at an equipped camp with drums and music. This Morocco Sahara desert trip is a great opportunity to take pictures of the sunset and sunrise.
At this time, we will explore the secrets of the Sahara and its unlimited horizons Night in (nomad Berber tents).
DAY 5:  Merzouga –  Todgha Gorge – Dades Gorges
Get up early, take a walk over the sand dunes to watch the sunrise take the camel back to the hotel for a shower, breakfast, and relax.
Then, we take the road towards the gorges. Stopping to go to Rissani to discover: the monument historic of Sijilmassa the massive center of desert trade, the Kasbahs (village fortify). Then, we continue passing through Ziz valley and gorges, we are going to have a brief walk in Todra gorge to enjoy the beauty of rivers and mountains.
Finally, we'll reach Dades Valley, have dinner, and overnight in a riad or traditional Hotel.
Day 6: Dades Valley – Ouarzazate – Ait Ben Haddou – High Atlas – Marrakech
After breakfast, we'll head toward Ouarzazate through the Rose Valley to get to the Kasbah of Taourirt and also the Atlas Studios movie studio.
From here, we head to the Fint Oasis, near Ouarzazate. Then, take the Tizi-n-Tichka road stopping for lunch, Then, reach Marrakech in the late afternoon, where our 6 days tour from Fes to Desert ends. Thanks for your beautiful visit.
Included in this Tour
A private and very comfortable air conditioned vehicle
Private English speaking driver/guide
Pick up and transfer at your Riad / Hotel / airport
Not included in this Tour
Send Us An Inquiry
When is the best time to visit Morocco?
There is really no time of year where you wouldn't enjoy your trip to Morocco; although you should keep in mind that it tends to get a little too crowded with tourists during the winter holidays season. Then it's up to you to decide what season suits you the best to come visit, according to your schedule and preferences.
The weather in Morocco is more on the mild side during Spring and Autumn (from March to May and from September to November respectively). For these seasons the temperatures could be ranging anywhere from 11° to 32°C. Winter usually lasts from December to February, with a relatively low temperature range (7° to 21°C). You should also expect to see snowfall in Morocco's mountainous regions. As for Summer (from June to August), temperatures can land anywhere between 19°C and 40°C in the middle of the day.
When is the peak season to visit Morocco?
The tourist flow in Morocco reaches its peak during December and April of each year, for these are the holiday seasons. The emerging high demand for accommodations during these months makes the prices go up very significantly in comparison to other months, and all of the best accommodations get booked up very early on. Therefore, if you're thinking of coming during one of these seasons, we suggest you start looking in advance, in order to have enough time to find an accommodation that suits your needs. We would also suggest you avoid these months altogether, so that you'll be able to get the best out of your Morocco experience.
Are the tours private?
Yes! The tours our company offers are all completely private. This will allow to experience Morocco the way YOU want to. In addition to that, you will of course be always welcome to request stops along the way during the tours, in order to take memorable photographs (or whatever other reason you want!).
In case you are interested in booking a group desert tour, please go ahead and contact us to make you the best group tour.
Will the price be the same if we are 2, 3 or more persons?
The price for each individual person participating in the tours goes lower the more people there are in the group participating.
Will the price be cheaper for last minute booking?
Actually, it could be quite the opposite. Our team makes sure to select the best quality accommodations for our clients, and those tend to get booked full pretty quickly, that's why it's not always easy for us to accommodate last minute bookings.
Therefore, you shouldn't expect a lower price for such inquiries, but instead a higher one maybe. To avoid such incidents, we strongly advise you to book your tour with us early on, so that we will be able to pick out the best accommodations for you, and offer you an unforgettable Morocco experience.
Or contact us for more information