Best 7 Days Tour From Casablanca to Marrakech
Overview
Morocco trips offer a 7 days tour from Casablanca to Marrakech and Fes Via the desert. Our dearest client, if you've got a vacation of 7 days and want to spend it in Morocco. here is an itinerary that will enable you to unearth the best Morocco can offer you. we'll start from the biggest city in Morocco which is Casablanca then drive to the Red city which is Marrakech where we'll uncover its history which dates back to the 11th Century.
Concerning nature, we'll immerse ourselves in the High Atlas mountains. The indigenous people are Berbers( Amazigh) they still have ancient Villages which can appear alongside the roads. The desert is a part that we don't seem to be visiting miss. it'll offer Us a night in the desert and a Camel ride. in the northern central, we'll visit the spiritual Capital which is Fes.
7 days tour from Casablanca to Marrakech highlights:
Visiting the greatest Mosque in Africa which is Hassan Second Mosque in Casablanca.
Marrakech sightseeings include Jamaa El Fna Square, Bahia Palace, Souks, Majorelle Gardens, and Saadian Tombs.
Breathtaking views of Atlas Mountains.
 Sahara desert, Draa Valley, Visit Nomads and figure out how they live in the Sahara, ride camels on the Sand dunes, and experience Sand Boarding.
Local market in Rissani.
Visit one of the biggest Cedar forests in Africa which is Inhabited by Macaques.
Fes sightseeings including Old Medina, Idriss II mausoleum, Nejjarine Museum, and Tanneries.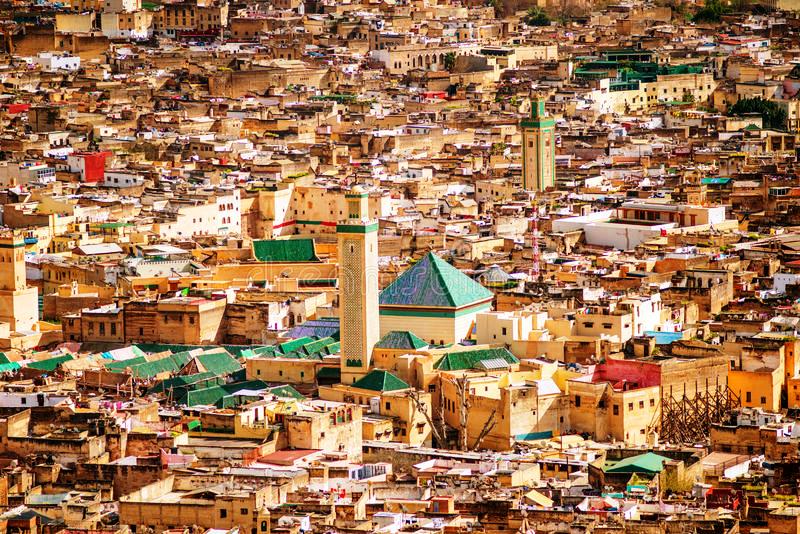 Day 1: Casablanca To Marrakech
Your "Adventure 7 days tour from Casablanca" will begin when our driver picks you up at the airport. This tour will take you to Marrakech. You might be able to see Hassan II Mosque, depending on the time of your flight. Once in Marrakech, take a shuttle to your hotel or Riad.
Day 2: Marrakech with a local guide
Today, a local guide will take you on a private guided tour of the medina in Marrakech. You will see the well-known Koutoubia Mosque, the Medina, and its souks, as well as some other treasures of Marrakech including the Ben Youssef Madrasa, the Saadian tombs, the Bahia Palace, and the Majorelle Gardens. NightA at in riad in the Medina.
Day 3: Marrakech – Ait Ben Haddou – Dades Valley
After breakfast, we will depart from Marrakech and drive toward the High Atlas Mountains crossing  Tizi n Tichka Pass with stops to see Berber villages and different landscapes. Along the way, you will stop to visit the UNESCO World Heritage site at Ait Ben Haddou where Indian Jones, Kingdom of Heaven, Lawrence of Arabia … has been shot. After visiting that village of kasbahs we will drive to Ouarzazate which is the Hollywood of Morocco. Continue to explore the fascinating Dades Valley. Dinner and night in a hotel.
Day 4: Dades Valley – Todgha gorges – Erg Chebbi in the Sahara desert
Today, you'll be taken to the Erg Chebbi Dunes. Before that, you will enjoy Todra Valley from panoramic views and then to Todra Gorge, the most impressive canyon in Morocco, there where you'll do some walking inside it. Later, we are going to drive to Erfoud which is the capital of fossils. Finally, we will be in the Sahara of Merzouga, there where you'll cross the largest Sand Dunes in Morocco by Camels, on the way, you'll stop to enjoy an impressive Sunset from the top of a dune and spend the night on a Berber camp under a starry sky.
Day 5: Erg Chebbi tour
After waking up to enjoy the sunrise on the top of a dune nearby the camp, you'll ride back the camels to the hotel and have breakfast and shower. Then, you'll go all the way around the dunes via the Oasis of Merzouga, the Nomadic depository, so leave to Rissani. Once called Sijilmassa, this was the meeting place for the salt caravans, coming from Timbuktu in Mali. Here you'll see different stuff and different life. After visiting that biggest local market we'll return to a village called KHAMLIA (Blacks' village) they're originally from Sudan. There where You'll have Berber Pizza and visit the Gnawa people, listening to their music which is Gnaoua Music. Then free time in the hotel.
Day 6: Sahara desert – Ziz Valley – Fez
After breakfast, we will drive alongside Ziz Valley with stops to see it from a panoramic view. After that we will head north through the High and Middle Atlas Mountains, passing by Midelt, we will be in the biggest Cedar forest where you will see Barbary Apes( monkeys). Afterward, Ifrane which is the "Switzerland town of Morocco", and finally be dropped off at your Riad in Fes.
Day 7: Fez with a local guide
Today, you'll be able to explore the UNESCO-protected Fes Medina with a local guide. Fes Medina is the oldest and most beautiful in Morocco, almost unchanged since the Middle Ages, and declared a World Heritage of Humanity in 1981. The doors lead us to a tangle of narrow streets and alleyways around the mosque Karaouine. Its university is the oldest in the world. Visit the neighborhood of the Tanneries and explore a terrace overlooking the Tannery. End of the services of our 7 days tour from Casablanca to Marrakech and Fez via Sahara desert.
NOTE:

If our 7 days tour from Casablanca does not suit your needs, contact us and we will prepare your trip according to your needs and requirements.
Included in this Tour
Private driver/guide who speaks your language
Pick up and transfer at your Riad / Hotel/airport
4×4 Car with A/C or Small Van.
Guide/Driver.
Camel trekking.
Accommodations in hotels and one night in a Desert Camp.
Dinner in the Sahara Desert, Dades valley, and other accommodations only breakfast.
Local Guide in Fes and Marrakech.
Sand Boarding.
Hiking in Todra Gorge( 40 minutes).
Not included in this Tour
Send Us An Inquiry
When is the best time to visit Morocco?
There is really no time of year where you wouldn't enjoy your trip to Morocco; although you should keep in mind that it tends to get a little too crowded with tourists during the winter holidays season. Then it's up to you to decide what season suits you the best to come visit, according to your schedule and preferences.
The weather in Morocco is more on the mild side during Spring and Autumn (from March to May and from September to November respectively). For these seasons the temperatures could be ranging anywhere from 11° to 32°C. Winter usually lasts from December to February, with a relatively low temperature range (7° to 21°C). You should also expect to see snowfall in Morocco's mountainous regions. As for Summer (from June to August), temperatures can land anywhere between 19°C and 40°C in the middle of the day.
When is the peak season to visit Morocco?
The tourist flow in Morocco reaches its peak during December and April of each year, for these are the holiday seasons. The emerging high demand for accommodations during these months makes the prices go up very significantly in comparison to other months, and all of the best accommodations get booked up very early on.
Therefore, if you're thinking of coming during one of these seasons, we suggest you start looking in advance, in order to have enough time to find an accommodation that suits your needs. We would also suggest you avoid these months altogether, so that you'll be able to get the best out of your Morocco experience.
Are the tours private?
Yes! The tours our company offers are all completely private. This will allow to experience Morocco the way YOU want to. In addition to that, you will of course be always welcome to request stops along the way during the tours, in order to take memorable photographs (or whatever other reason you want!).
In case you are interested in booking a group desert tour, please go ahead and contact us to make you the best group tour.
Will the price be the same if we are 2, 3 or more persons?
The price for each individual person participating in the tours goes lower the more people there are in the group participating.
Will the price be cheaper for last minute booking?
Actually, it could be quite the opposite. Our team makes sure to select the best quality accommodations for our clients, and those tend to get booked full pretty quickly, that's why it's not always easy for us to accommodate last minute bookings. Therefore, you shouldn't expect a lower price for such inquiries, but instead a higher one maybe.
To avoid such incidents, we strongly advise you to book your tour with us early on, so that we will be able to pick out the best accommodations for you, and offer you an unforgettable Morocco experience.
Or contact us for more information