Best 7 Days Tour From Tangier – Tangier To Marrakech
Overview
Here is a great 7 Days tour From Tangier to Imperial Cities ending in Marrakech via the Merzouga Sahara desert (Erg Chebbi dunes) with a camel ride and camping under shining stars in the middle of nowhere! Meet people and discover Gorges, palm groves, and old kasbahs. Unmissable chance to see Morocco through its locals' eyes.
Live 1 week in Morocco, and find inspiration in this suggested trip itinerary. From medieval medinas and high-altitude mountain passes to massive sand dunes and starry skies in the desert, there's much to see and do in Morocco.
Highlights of 7 Days Tour Tangier to Imperial Cities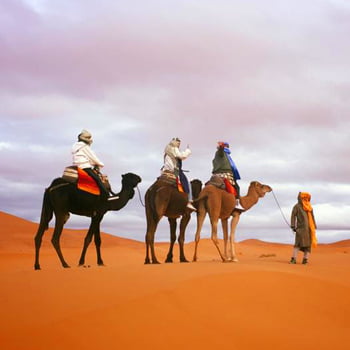 Day 1: Tangier – Chefchaouen – Fes
7 days tour from Tangier to Marrakech will begin at the city of Tangier, from which we will drive in the middle of the Rif Mountains, by the city of Tetouan, until finally arriving at the city of Chefchaouen. This little city, called the blue pearl, has beautiful landscapes to offer, which you will get to enjoy from the top of a café or restaurant. Following that, we will continue driving to Volubilis, which is a city of ruins left by the Great Roman Empire.
You will enjoy a full tour of the city, after which we will leave for Meknes city. Meknes is one of the most historically important imperial cities, and you will get to discover its charm through a guided tour. Finally, we will arrive at Fes in the early evening, where we will have dinner and spend the night at a traditional Riad.  
Day 2: Fes – City tour
This day will start after your local guide comes to pick you up from your accommodation. Fes is a beautiful city that doesn´t fall short on the amazing things it has to offer: from artisanal crafts to traditional food, passing by souk markets… etc.
You will get to experience a whole new world as you´ve never seen before. Fes is also home to the oldest university in the world, the Karaouine University, which you will visit alongside the rest of the old Medina, a recognized UNESCO world heritage. We will walk around the narrow streets and alleyways of the old medina, as well as visit the Royal Palace and the city´s Jewish district, the Mellah.
Day 3 : Fes – Ifrane – Midelt – Ziz Valley – Erfoud – Merzouga – Erg Chebbi
We will start our Sahara desert trip towards the desert by driving past the beautiful town of Ifrane, also called the Switzerland of Morocco for its unique weather and architecture. Our first stop along the way will be to observe wild macaque monkeys in their natural habitat, at the cedar forest in Azrou.
We will resume our trip to Merzouga, passing through the valley of Ziz and its impressive palm groves, and the city of Erfoud that´s mostly known for its richness in natural fossils. Finally, we will arrive at Merzouga where we will spend the night in the middle of the dunes, in a traditional-style tent.
Day 4 : Merzouga – Todra Gorges – Dades Valley
This next day we will make sure to wake you up in time to witness the beautiful sunrise over the Sahara desert dunes. We will then have breakfast at the camp before riding camels again until we reach our vehicles. After that, we will head straight to Tinghir, in order to discover the beauty of the Moroccan Grand Canyon, and the Todgha gorges.
The gorges´ natural rock formations attract amateur and professional climbers alike, from all over the world. Finally, we will drive by the town of Kalaat M´gouna and Boumalne, where you will get to see the Valley of Dades. This is where we will have dinner and spend the night in a local hotel.
Day 5 : Dades Valley – Valley of Roses – Ouarzazate – Ait Ben Haddou – Marrakech
We will have a morning exploration of the Dades valley, after which we will drive through the road of the Thousand Kasbahs. After that, we will arrive at our next destination which is Ouarzazate, or the Hollywood of Morocco. It takes this name for being home to Morocco's biggest and most important film studios, which we might pay a visit.
Next, we will drive to the neighboring Kasbah of Ait Ben Haddou, which is an ancient traditional fortified Ksar, a UNESCO world heritage, and the filming location for many important international movies. Then, following the river of Ounila, we will reach the Kasbah of Taoulet, which will be our last stop of the day before finally leaving for Marrakech. We will have dinner and spend the night at a traditional Riad in Marrakech.
Day 6 : Marrakech: City Tour
After breakfast at your accommodation, your certified local tour guide will come to pick you up in order to begin your exploration of the red city, Marrakech. This city is home to Jamaa´ El Fna, the busiest and biggest square in North Africa that holds many traditional artisanal sellers and merchants.
Marrakech has many other jewels to offer, that you will, of course, get to visit, such as the Majorelle and the Menara gardens, the Saadies tombs, the Bahia Palace, the Koutoubia Minaret, and many more. Finally, you will have dinner and spend the night in Marrakech.
Day 7: Transfer to the airport
Your 7 days tour from Tangier to Marrakech ends here after your transfer to the Marrakech or Casablanca airport is arranged. Thank you for your lovely visit.
NOTE:

If our 7 days tour from Tangier does not suit your needs, contact us and we will prepare your trip according to your needs and requirements.
Included in this Tour
A private and very comfortable air-conditioned vehicle
Private English speaking driver/guide
Pick up and transfer at your Riad / Hotel/airport
Not included in this Tour
Send Us An Inquiry
Or contact us for more information