6 days tour from Marrakech
WHY BOOKING this 6 days tour from Marrakech?
The 6-day excursion from Marrakech. In the desert, no one is in a hurry. Explore the rituals of the local nomads while watching the sunset over the dunes and seeing the night sky like never before in one of the most breathtakingly stunning places on Earth.
The 6 days tour from Marrakech. In the desert, no one rushes. Take your time exploring the customs of the local nomads as you watch the sunset over the dunes and experience the night sky like never before in one of the most visually magnificent locations on Earth.
Take advantage of the VIP treatment by booking a private 6-day tour from Marrakech. The best method for you to experience the South of Morocco is with your very own certified and accredited professional guide. You may take advantage of the wonders of Morocco with the help of our private day trips and activities. Enjoy your exploration!
HIGHLIGHTS OF THE 6 days tour from Marrakech:
Watch Sunset over the sand dunes
Your private 6 days tour from Marrakech begins with a view of the Atlas Mountains as we ascend the 2260-meter-high Tizi N'Tichka pass to the UNESCO World Heritage site of Ait Ben Haddou, which has been on the UNESCO list since 1987 and has been featured in films like Gladiator (2000) and the world-famous HBO series Game of Thrones (2013).
After that, we'll travel to Ouarzazate, often known as "The Gate to the Desert," to see the Atlas Film Studios and the Taourirt Kasbah, both of which are inside the city, before moving on to the Valley of the Roses, which is well-known for its annual rose festival. The first night will be spent in a traditional riad or hotel with a complimentary dinner and breakfast in Dades Gorges and its stunning gorges.
As we continue our 6 days tour from Marrakech, we'll stop at Todra Gorge, a colorful, narrow canyon that's a favorite among outdoor enthusiasts. Then, we'll travel via the Ziz Valley to Erfoud through Tinjdad, an oasis hamlet well-known for being the entrance to the spectacular Erg Chebbi dunes and for being home to some of the world's most distinctive fossil producers.
While there, we can visit a nearby firm that makes furniture for homes and artisans out of fossils. Then take a car to Merzouga in the Sahara desert.
When you reach the edge of the golden sand dunes, you switch from your original mode of transportation—camels or desert ships—to one of the greatest sunset viewing locations before enjoying sandboarding as the light fades and the sand changes color. The trip is directed by knowledgeable guides.
Arriving at the well-equipped Merzouga Desert Camp, where we will spend the night in tents decorated in a Berber style.
A distinctive and traditional starlit Berbere dinner will make this amazing night unforgettable, and tribal music (drums) played around a desert campfire will round it off.
We will spend today, the third day of our 6 days tour from Marrakech, touring the Merzouga desert. With the choice of going camel trekking or touring in the comfort of a 4×4, you'll have the opportunity to "do your own thing." We'll also go to Khamlia village, which is well-known for its folk music.
We will spend today, the third day of our six-day trip from Marrakech, touring the Merzouga desert. With the choice of going camel trekking or touring in the comfort of a 4×4, you'll have the opportunity to "do your own thing." Additionally, we'll go to the Khamlia village, which is well-known for its authentic Gnawa music.
We will continue our adventure to the lead mines in the small, deserted village of Mefes, which has been a source of various minerals ever before the French colonizers arrived.
We simply can't pass up the chance to enjoy a visit with a kind nomad family that resides behind the Merzouga Sahara desert dunes. Our evening will come to a close in a riad or hotel in the Merzouga region.
After breakfast at the hotel, we will go through Rissani and the largest market in the area, the local souk, in order to get to Midelt in the Atlas Mountains via Ziz Valley and palm plantations.
After stopping for lunch at a nearby eatery, we can continue on to Azrou and its Barbary Apes before driving to Fes, where we will spend the night in a nearby hotel.
We will go to Ifrane City, which has beautiful architecture, and lush gardens, and is a very clean town. It is also the ideal place for ski fans because of its sizable ski resort, Mishlifen. Ifrane is known as the "Switzerland of Morocco" due to its exquisite features and setting.
The sightseeing tour will begin with a native guide taking us through the winding streets and little alleys of the oldest city in Morocco.
Fes, which has three separate areas and is recognized as a scientific city, is home to the oldest university in the world: Fes el Bali (a UNESCO World Heritage Site since 1981).
The Jewish quarter is located in the Fes-Jdid "new Fez," the oldest of the three, which has more than 8500 winding streets and alleys supported by a high wall. The "Ville Nouvelle," the most up-to-date section of Fez, was constructed during French rule.
The Tanneries, the Attarine Museum, and the Moulay Idriss Mausoleum are all stops on the guided sightseeing tour. Following your visits to numerous cooperatives, you'll be treated to a beautiful view of Fes's Medina.
After the tour is over and we've had lunch, we'll head to Casablanca. Dinner and overnight stay in the population-wise largest and most economically important city in Morocco.
Before heading into the red city of Marrakech, where our 6 days tour from Marrakech ends with a drop-off at your lodging or the airport, we see the key sights and monuments of Casablanca, including the Hassan II Mosque.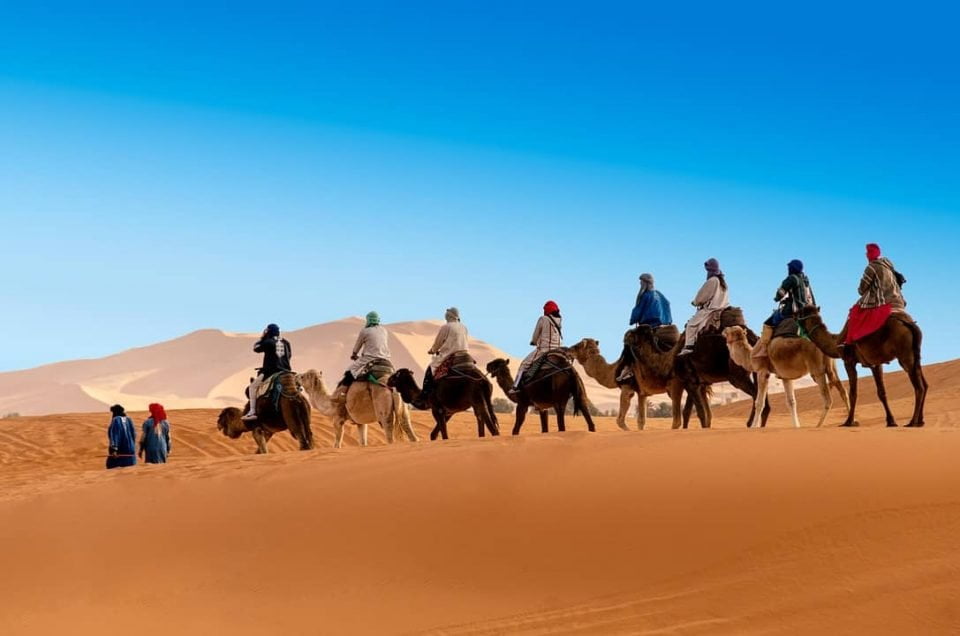 Why reserve with Let's Visit Morocco?
3 day trip Fez to Marrakesh Amazing trip! We had Mohammed as a guide and he was so sweet and caring. The advantage of being in a small group is that you get to stop wherever you want to take pictures, you simply need to ask! We are backpackers so we weren't too sure about the hole organized trip thing but it was perfect as we were in a small group and had a lot of freedom! Thank you so much Mohammed for this amazing time!

Viagem Incrível A viagem foi incrível, curti vários lugares, experiência única que vale muito a pena, um país com uma cultura marcante e pessoas acolhedoras, recomendo conhecer Marrocos.

"Magical Trip in Morocco" I'm so glad I found this travel agency to be my host in my trip. They provide extraordinary programs, which we wholeheartedly recommend to all who want to see the real Morocco. The food and clothing that this country have are very unique and worth the whole way here, and sleeping in the desert camp under the open sky, where only the sky is our blanket is magical. You can go by riding camels or take a 4×4 they back to the hotel which gives you the choice to choose your best way. The attendants are very kind and provide a high quality service. If you are planning to visit this wonderful country, make sure to rely on this agency and you are guaranteed to have a magical experience. Add this in the end... Thank you Hassan, and see you soon again Let's Visit Morocco
A New Fave Destination "Expectation vs. Reality" the line I want to describe about Morocco.😊 At first, I don't have high expectation about the country but when I landed on it, I felt "WOW". I felt like I am in my comfort zone. The travel agency is so accommodating and friendly. They entertain and guide all of us in every destination. So far, All of the places had a really great impact just like ice cream that have so many flavors that in every taste of it, you feel satisfied! It was really a great experience and a new fave destination that I want to go back and where my heart felt at ease. I really recommend this place and the travel agency for a worthy and memorable travel. ❤️❤️❤️❤️❤️❤️

Incredible and exotic Morocco worth a visit more than looking at pics or videos. Amazing food, accommodations and wonderful sightseeing and World Heritage sites. Highly recommended!!! Come travel, explore and discover Morocco!!!

"lo mejor de lo mejor" "Marruecos es un gran lugar para visitar y el uso de los servicios de esta compañía lo haría muy especial y memorable. Excelentes servicios y muy amigables y responderían todas las preguntas necesarias para conocer este país cultural"✌️😇

Paseo 🙂 Fuimos a Marruecos con mis amigos y fue una experiencia muy agradable, una organización increíble y el servicio que prestaban era impresionante,te explican muy bien si tenías alguna duda. La gente que trabaja es muy amigable y sociable. Pasamos un paseo inolvidable y la experiencia adquirida fue única, muy recomendable visiten Marruecos no se arrepentirán.

Grandes vacaciones Marruecos maravilloso Un viaje excelente, con un servicio de primera. Quisiera volver a repertir esa experiencia maravillosa.

Why don't you take the opportunity now? The tours offered here show a very attractive point of view of Morocco, definitely recomended! The guide Hassan will welcome you, and solve all of your questions in a way that will make you feel like at home.

"Marruecos con let's visit Marroco" Gran tour a Marruecos, los lugares, la historia que te explican, la paciencia que tiene al explicar todo, mostrar la cultura del lugar, muy recomendable 👌.

Note:
Please If the itineraries we offer do not meet your needs, please contact us. and tell us about your ideas, and one of our experts will contact you to help you create a one-of-a-kind trip…
For personalized excursions, you will be the only passenger in the car.
Each couple has their own room in the hotel or riad, as well as a tent in the desert camp, out of respect for your family circumstances.
You don't need to bother about a meeting spot; just tell us the address of your hotel, and we will come to pick you up.