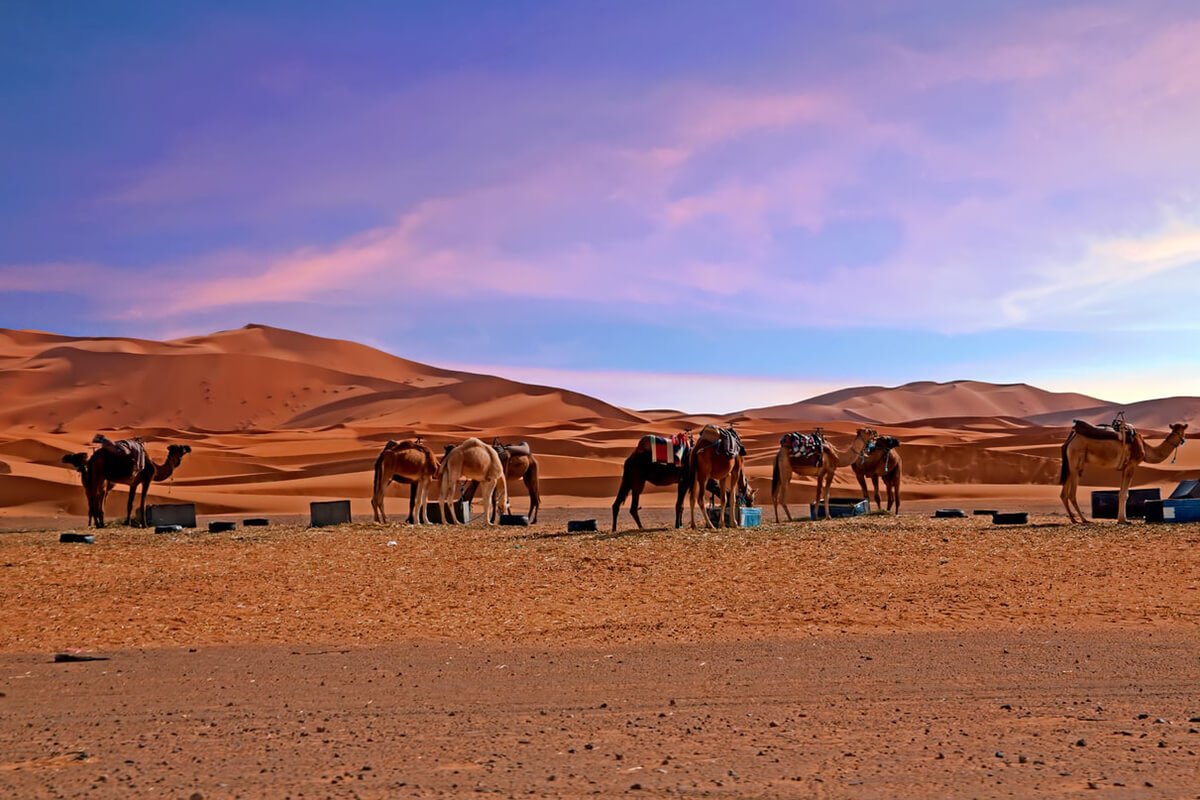 Let's Visit Morocco offers guided historical and desert tours throughout Morocco. Starting in Marrakech, Casablanca, Tangier, and Fes, We've put together the best Morocco Desert tours from Marrakech itinerary to fit your budget and travel time, including shared group tours and private luxury Sahara Desert tours from Marrakech, ranging from 2 to 4 days, as well as tours from Marrakech to Fes, Chefchaouen, and Tangier, which include Camel Treks and Night Camps in the Desert.
All of our Morocco excursions, from Marrakech to the Sahara, are offered on a daily basis and are tailored for groups and individuals, including families with children on a desert tour, couples on a honeymoon tour, and students on field trips. To provide a high level of service, we are guided by a professional team.
We offer a selection of sample private Morocco tours departing from Casablanca, Marrakech, Fes, Tangier, or Rabat, all of which are meant to mix cultural immersion, adventure, and enjoyment. After a long day of adventure, we focus on culture, history, towns and sites, desert and hidden gems, wonderful food, and comfortable accommodations.
Our Morocco private excursions departing from Casablanca can be customized to meet your specific travel needs. Please take a look at any of the itineraries below to get a sense of what we can offer you. A trip to the Sahara Desert from Marrakech is an unforgettable experience. If you just have a few days in Marrakech, this fantastic adventure to the Sahara desert is still doable.
Choose from a 2-day shared group or private desert excursion from Marrakech to Zagora, which includes camel trekking and an overnight stay in a desert camp. If you have a little more time on your hands, consider going on a 3/4/5-day Sahara desert adventure in Morocco. Starting in Marrakech, we'll take you to Merzouga, where you'll find the stunning, golden dunes of the Sahara desert.
On your trip to Merzouga, you'll be able to make the most of your time by seeing the UNESCO World Heritage Kasbah at Ait Ben Haddou, the Valley of the Roses, and the Todra Gorges. If you're considering visiting Morocco or taking a vacation to the Sahara Desert, our experienced team has put together a list of the Best and Most Popular Marrakech Sahara Desert Tours. We can arrange low-cost group or private Sahara tours from Marrakech. We guarantee that your journey will be one to remember!
When is the best time to visit Morocco?
There is really no time of year where you wouldn't enjoy your trip to Morocco; although you should keep in mind that it tends to get a little too crowded with tourists during the winter holidays season. Then it's up to you to decide what season suits you the best to come visit, according to your schedule and preferences.
The weather in Morocco is more on the mild side during Spring and Autumn (from March to May and from September to November respectively). For these seasons the temperatures could be ranging anywhere from 11° to 32°C. Winter usually lasts from December to February, with a relatively low temperature range (7° to 21°C). You should also expect to see snowfall in Morocco's mountainous regions. As for Summer (from June to August), temperatures can land anywhere between 19°C and 40°C in the middle of the day.
When is the peak season to visit Morocco?
The tourist flow in Morocco reaches its peak during December and April of each year, for these are the holiday seasons. The emerging high demand for accommodations during these months makes the prices go up very significantly in comparison to other months, and all of the best accommodations get booked up very early on.
Therefore, if you're thinking of coming during one of these seasons, we suggest you start looking in advance, in order to have enough time to find an accommodation that suits your needs. We would also suggest you avoid these months altogether, so that you'll be able to get the best out of your Morocco experience.
Are the tours private?
Yes! The tours our company offers are all completely private. This will allow to experience Morocco the way YOU want to. In addition to that, you will of course be always welcome to request stops along the way during the tours, in order to take memorable photographs (or whatever other reason you want!).
In case you are interested in booking a group desert tour, please go ahead and contact us to make the best group tour for you.
Will the price be the same if we are 2, 3 or more persons?
The price for each individual person participating in the tours goes lower the more people there are in the group participating.
Will the price be cheaper for last minute booking?
Actually, it could be quite the opposite. Our team makes sure to select the best quality accommodations for our clients, and those tend to get booked full pretty quickly, that's why it's not always easy for us to accommodate last minute bookings.
Therefore, you shouldn't expect a lower price for such inquiries, but instead a higher one maybe. To avoid such incidents, we strongly advise you to book your tour with us early on, so that we will be able to pick out the best accommodations for you, and offer you an unforgettable Morocco experience.