5 Days Marrakech to Fes Desert Tour
WHY BOOKING this 5 Days Marrakech to Fes Desert Tour?
Tourists usually experience some difficulty while searching for Morocco trips thanks to the variety of alternatives and deals. We can give the right itinerary as a recognized travel operator in Morocco, allowing you to organize your holiday with simplicity.
The Erg Chebbi Dunes are among the sights you'll see on a 5 days Marrakech to Fes Desert Tour, along with a few other fascinating and unforgettable stops.
The rich cultural traditions, delectable cuisine, and varied architecture of south Morocco will all be available for you to experience.
People frequently feel a little confused when looking for Morocco tours due to the variety of options and offers. We can provide the ideal itinerary as a reputable travel company in Morocco, enabling you to arrange your vacation with ease.
HIGHLIGHTS OF THE 5 Days Marrakech to Fes Desert Tour:
To start the 5 Days Marrakech to Fes Desert Tour, we pick you up from your hotel in Marrakech. We then drive you to Telouet across the high Atlas mountains via the Tizi-n-Tichka pass (2260 m above sea level), where you will see the Kasbah of Pasha Glaoui and have lunch in a local restaurant. We travel to Ait Ben Haddou in the afternoon along the Ounila valley with its Berber communities. We travel to Ouarzazate for dinner and a fantastic night in a hotel after touring the Kasbah of Ait Benhaddou.
After eating breakfast in Ouarzazate, we travel to Skoura to witness the stunning Kasbah of Amredil, which is located along the "Route of a Thousand Kasbahs" of palm groves. After that, we continue on our journey through the magnificent Valley of Roses before crossing an off-road area where we might come upon a cave-dwelling nomad family.
We travel to Boulmane du Dades for lunch after viewing the Dades gorges and admiring the amazing rock formations. The route continues through Tineghir and then to Todra Gorges, where you may take in the stunning canyon views. You will have dinner and spend the night in the Kasbah hotel.
The next day, we drive to Tinjedad for a delicious lunch at a nearby restaurant after taking a brief stroll through the palm plantations and taking in the expansive views of the Todra River. Next, we travel through a number of Berber communities, including Touroug and El-Jarf, before arriving in Erfoud to visit a local workshop that makes fossil crafts. 
Following that, we continue to Erg Chebbi, also known as Merzouga Dunes, where you can prepare for a one-and-a-half-hour camel trek with a guide to reach the camp for dinner and an overnight stay in a typical nomad tent.
You wakeup early in the beautiful Desert to take in the sunrise from the top of a dune, eat breakfast, and then ride your camel back to the hotel for a relaxing shower. A 4×4 tour will give you the opportunity to see the black volcanic rocks where fossils may be found, listen to Gnawa spiritual music in the village of Khmlia, and learn about the lake Dayte Sarji, which emerges in the spring and attracts pink flamingos and other wildlife.
After stopping in Merzouga or Hassi Labied for lunch, you will explore the canal irrigation system and take a stroll around the magnificent oasis. Dinner and a night's stay in an Auberge.
We'll travel to Rissani after breakfast to see the nearby market (Souks). We'll next drive to Errachidia through Erfoud and Aoufous, stopping there for a spectacular view of the oasis in the Tafilalte region before continuing on to Midelt over the Tizi N'talghamt hill. 
After a stop for lunch, we'll travel via the middle Atlas mountain range to the medieval city of Fes, passing through a cedar forest close to Azrou. Before reaching Fes, IFRAN, the Swiss of Morocco, may be visited if time permits. Departure from Fes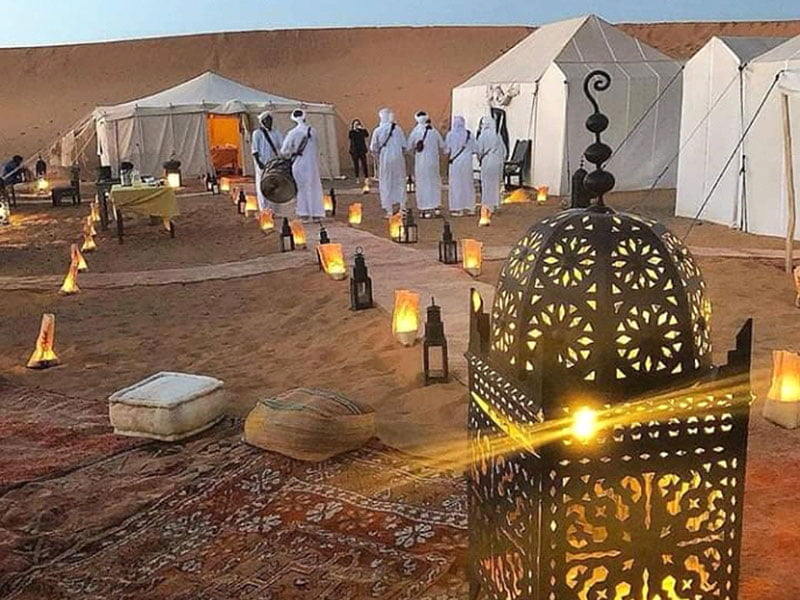 Why reserve with Let's Visit Morocco?
Note:
Please If the itineraries we offer do not meet your needs, please contact us. and tell us about your ideas, and one of our experts will contact you to help you create a one-of-a-kind trip…
For personalized excursions, you will be the only passenger in the car.
Each couple has their own room in the hotel or riad, as well as a tent in the desert camp, out of respect for your family circumstances.
You don't need to bother about a meeting spot; just tell us the address of your hotel, and we will come to pick you up.