4 Days Tour From Marrakech To Fes Via Desert
A private 4 Days From Tour Marrakech to Fes via desert journey includes stays in Dades Valley and Merzouga (Desert). On the first day, you'll journey through the High Atlas Mountains, stopping at Ait Ben Haddou before continuing on to Dade through Skoura and Rose Valley. The second day will start with a visit to Todra Gorges before you continue south to Merzouga and start an overnight camel trek in the desert. We will spend the entire third day in the desert, visiting nomad families, deserted settlements, and fossil mining. On the final day, we will leave for Fes early in the morning, traveling through Ifrane, Ziz Valley, Midelt, and Cedar Forest. For individuals who would like to upgrade their accommodation. We offer three options for upgrading your hotels and desert camp from standard to mid-range or luxury.
HIGHLIGHTS OF THE 4DAYS TOUR MARRAKECH TO FES:
Stop at Azrou cedar forest and see Barbary Apes
Panoramic aspects of Erg Chebbi dunes
Experience Camel ride in Merzouga Sahara
Watch Sunset over the sand dunes
Do Sand Boarding activity
Hearty dinner and party around the campfire (Berber Drums)
Overnight Camping at Merzouga Desert Camp
Visit the UNESCO world heritage of Ait Ben Haddou Kasbah
Spectacular views of the Atlas Mountains landscapes
Day 1: Marrakech - High Atlas - Ait Ben Haddou - Dades
On the first day, we will pick you up from Marrakech at 8:00 am and then head south through the High Atlas Mountains and Tizi n'Tichka (the highest road pass). We'll pause to take in the breathtaking landscape of the Atlas Mountains, see several Berber settlements, and enjoy a coffee or tea break in a quaint restaurant with a view of the mountains. We will continue to Ait Benhaddou, a spectacular Kasbah and well-preserved fortification in Morocco and a UNESCO World Heritage Site. There were several Hollywood movies shot there, including Gladiator, Kingdom of Heaven, and Game of Thrones, to name a few. We go along to Ouarzazate, also referred to as the "Holywood of Africa." Before arriving in Dades Valley, where we will spend the night in a hotel, we will first visit its film studios and Taourirt Kasbah, a historic fortified home, before traveling to Skoura, Mgouna Valley (Roses Valley), and other Berber communities.
Day 2: Boumalne Dades - Tinghir - Erfoud - Sahara Desert
The next morning, we will depart from Dades Valley and make our way to Todra Gorges, one of Morocco's most beautiful and breathtaking gorges. Before traveling south to Erfoud, a small town famous for its fossil manufacturers, there will be breaks along the road for a walk through the Todra Oasis and then into the canyons. We'll continue traveling further south while traversing the Saharian Oasis. You will have some time to recuperate depending on when we get to Merzouga before mounting the camel that will lead you on a desert adventure into the dunes where you will spend the night in a tent. The camel expedition starts in the summer at about 17:00–18:00, while in the winter, it starts around 15:00–16:00. You will reach the camp after an hour of riding camels, where you will be welcomed with a cup of tea as you take in the Sahara and the setting sun. Dinner will be served later at the camp's restaurant tent, and locals will play Berber drums around the campfire for entertainment. Don't forget to take a walk in the neighboring dunes where you may enjoy the starry sky. Keep in mind that there won't be any sand storms, and the bonfire will be held at night during the cooler months.
Day 3: Merzouga Explore - Gnawa Music - Visit Nomads Families
On the third day, we'll wake you up early so you can take in the stunning sunrise. After that, you'll have breakfast, take a shower, and start the day. We have the entire day today to go on a 4WD excursion through the desert. Merzouga is a stunning desert settlement surrounded by beautiful scenery, Oasis, and abandoned villages. The first place we'll stop is at Dayet Srij, a seasonal lake in Merzouga where we can see some flamingos and other birds with dunes in the background. The next stop is the village of Khamlia, where the locals are originally from Mali and Sudan. We will pause to take in the rhythms of the African music known as Gnawa music and possibly dance to them. After our tour, we'll stop in one of their tents for lunch (optional), where we may indulge in a wonderful Berber pizza or sip mint tea. Then, we'll continue driving off-road on the Dakar Rally road. Before we return back at the hotel in Merzouga, we will make a stop at a desert oasis. After a little break, you can stroll to the village or nearby dunes to take in the serene setting sun.
Day 4: Merzouga - Errachidia - Midelt - Azrou - Fes
The following morning, after your breakfast and shower, we will depart for Fes. After passing through Errachidia, the main administrative center in the desert, we'll stop to take in the expansive vista of the stunning Ziz Valley and its many palm trees. We continue on to Midelt, the city of apples, where we can stop for lunch. The Azrou Cedar Forest, which is home to wild monkeys, will be the next visit. It would be an opportunity to photograph the wild surroundings and feed the monkeys. They are wild creatures, so please keep in mind that they are not always present. As we continue on our way to Fes, we will pass Ifrane, also referred to as Moroccan Switzerland. We will arrive around 18:00 and 19:00 depending on the length of the stops along. The end of our 4 days tour from Marrakech to Fes.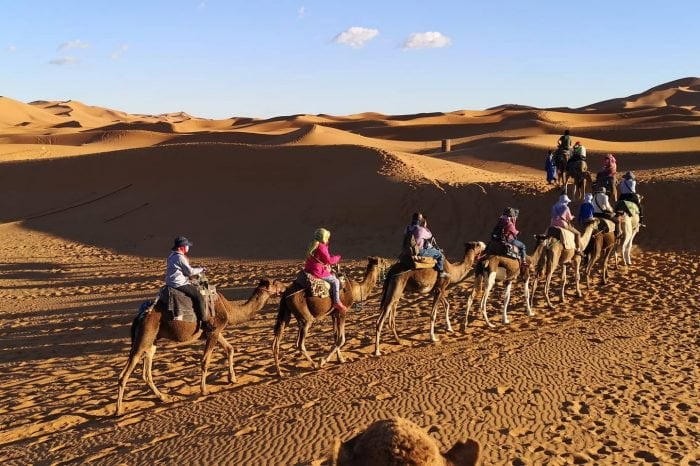 Note:
Please If the itineraries we offer do not meet your needs, please contact us. and tell us about your ideas, and one of our experts will contact you to help you create a one-of-a-kind trip…