7 Days Tour From Marrakech
As you travel through ancient cities, ports, mountain gorges, and valleys on this 7 Days Tour from Marrakech, you'll get the chance to immerse yourself in the most stunning region of the Moroccan Sahara desert and reflect on the contrasts and diversities given by its various landscapes.
The vacation in Morocco that Morocco Tours Agency offers is exceptional. The greatest way to travel back in time and see the nation's rich history is to take the 7-day/6-night private tour to the Merzouga Desert from Marrakech. Visitors have the opportunity to see ancient Medinas, fortifications, and winding, confusing streets in city empires.
Spend time in souks (traditional markets), which provide a variety of things for sale, including handwoven crafts and regional specialties. Stay in Moroccan riads or old-style homes.
HIGHLIGHTS OF THE 7 DAYS TOUR FROM MARRAKECH:
Stop at Azrou cedar forest and see Barbary Apes
Panoramic aspects of Erg Chebbi dunes
Experience Camel ride in Merzouga Sahara
Watch Sunset over the sand dunes
Do Sand Boarding activity
Hearty dinner and party around the campfire (Berber Drums)
Overnight Camping at Merzouga Desert Camp
Visit the UNESCO world heritage of Ait Ben Haddou Kasbah
Spectacular views of the Atlas Mountains landscapes
Day 1:Arrival to Marrakech - Transfer to Accommodation
Your driver will meet you up at the airport and gives you the rest of the day to relax while you independently explore the souks and the city's largest square, Jemaa el Fna.
Day 2: Full Day Marrakech explore With A Local Guide
You will get a sightseeing guided tour of Marrakech Medina with a local knowledgeable guide today (the day before departing Marrakech on a 7 Days tour from Marrakech). The excursion covers the well-known Koutoubia Mosque as well as the Medina's souks and winding lanes.
Discover more of Marrakech's hidden gems and fascinating locations, like the Saadian Bahia Palace, Ali Ben Youssef Koranic School, and the lovely Majorelle Gardens. Return to your customary riad in the Medina.
Day 3: Marrakech - Atlas Mountains – Ait Ben Haddou - Ouarzazate – Boumalne Dades
Our 7 Days Tour from Marrakech departs from Marrakech at 8:30 a.m. We first go to Dades Gorges before continuing to the Ait Benhaddou Kasbah, a UNESCO World Heritage site, where you will have lunch in a neighboring restaurant. From there, we travel to the High Atlas and Berber communities.
After that, we continue to Ouarzazate, often known as "The Gate to the Desert," where you can see the Atlas Studios and Kasbah Taourirt. Due to its position and the nearby castles, this small community has welcomed a number of foreign film producers. Before it earned the nickname "Hollywood of Africa."
After that, we travel through Roses and Dades valley on our way to Dades Gorges. The date includes a typical Moroccan meal and an overnight stay in a riad or hotel in the Dades gorges.
Day 4: Boumalne Dades - Todra Gorges - Erfoud - Merzouga
After a healthy breakfast, head back into the valley to visit the magnificent rock structure known as "the monkey toes" and the 19th-century Kasbah of Ait Yul. Then, as we travel from the Dades Valley to Tinghir and the Todra Gorges, we pass through picturesque countryside with its old clay Berber towns perched above the canyon.
You will walk along the 300-meter-high red cliff as you approach the Todra Gorges to engage in your favorite sport.
We will continue to Erfoud, where we will have lunch, and then go for the beautiful Erg Chebbi sand dunes in Merzouga.
When we arrive, an experienced camel guy will be ready for us to begin the camel ride and explore inside the mysterious Erg-wavy Chebbi's sand dunes. A break will be provided for you to relax, enjoy the sunset, and go sandboarding.
A typical Berber-style nomad tent was then used before spending the night in a well-equipped desert camp. A beautiful dinner will be served, and there will be music gathering around the fire.
Day 5: Sahara Desert Explore - Berber Families - Gnawa Music - Merzouga
We continue our 7 days tour From Marrakech. You'll begin your camel trek back to the starting point after taking a shower and eating breakfast in the desert camp. There, you'll meet your driver and embark on a discovery tour of the Merzouga region, which includes a stop at the seasonal lake of Merzouga and its migratory bird populations, which include flamingos.
In a nearby village, you can experience the Gnawa music and way of life of people with dark skin who are originally from Sub-Saharian countries. We will make a stop in Mefes, a little deserted town known for its lead mines and minerals, en route to a nomadic family.
The hotel where you will spend the night will offer dinner. Bed and breakfast and dinner.
Day 6: Sahara Desert Explore - Rissani - Alnif - Agdz - Ouarzazate
We leave the Merzouga desert and begin our journey to Ouarzazate via a separate road through the Berber settlements of the Atlas highlands, such as Alnif, Agdz, and Draa valley, after eating the Farewell breakfast and taking a shower in the hotel. till the dark when we reach Ouarzazate. Dinner and a night in a local riad.
Day 7: Ouarzazate - High Atlas Mountains - Marrakech
After visiting some studios, we will depart from Ouarzazate this morning and travel to Marrakech, our final destination. We will cross the High Atlas Mountains via the Tizi N Tichka pass, Morocco's highest road pass, which offers breathtaking views of canyons, mountains, and several nearby Berber villages, and we will arrive in Marrakech in the evening.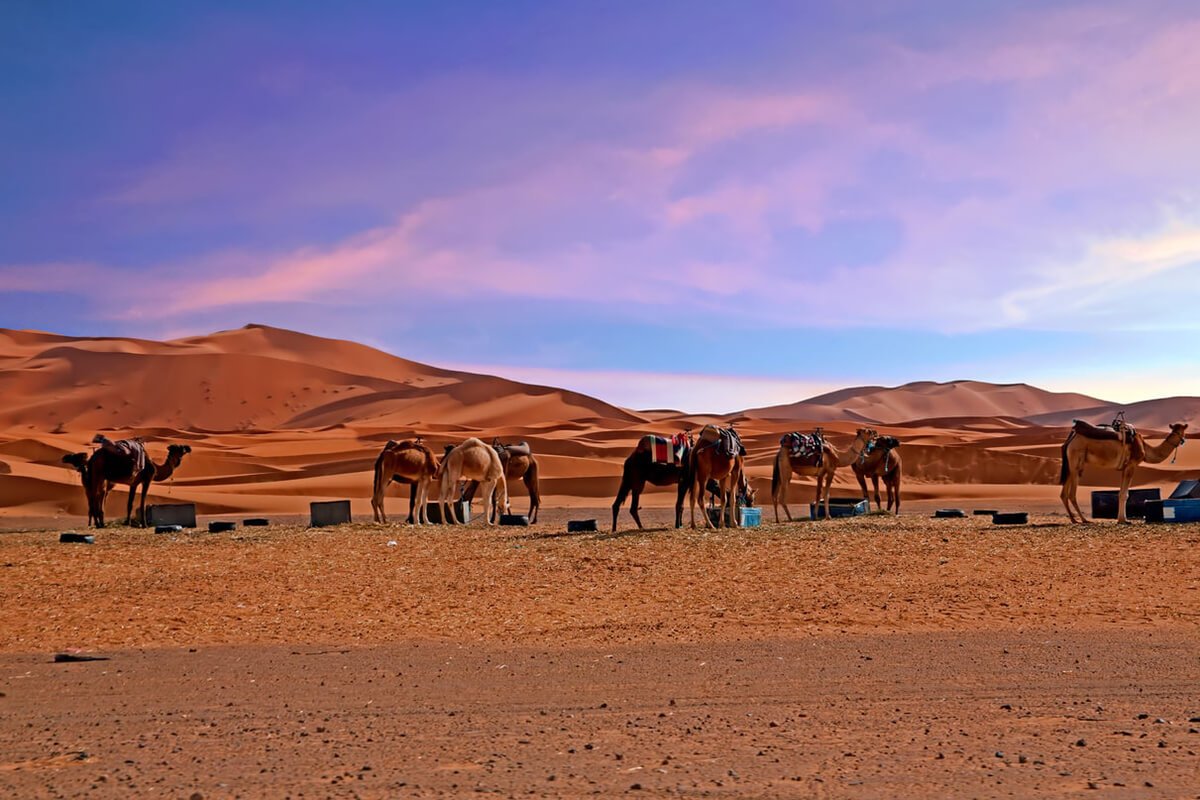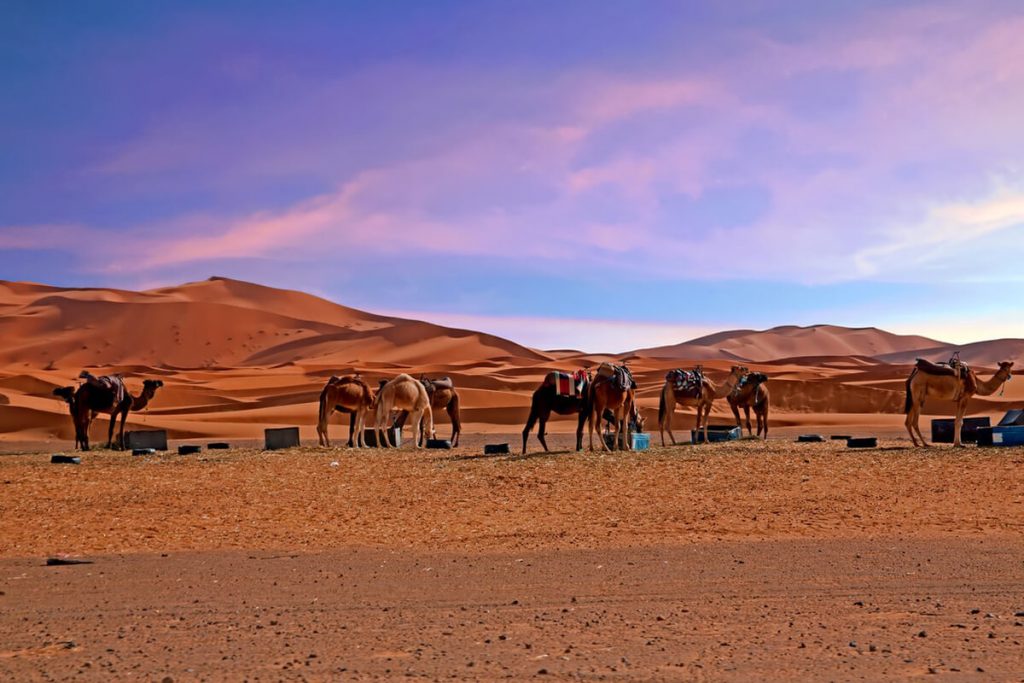 Note:
Please If the itineraries we offer do not meet your needs, please contact us. and tell us about your ideas, and one of our experts will contact you to help you create a one-of-a-kind trip…