12 Days Morocco Grand Tour From Fes
The 12 Days Morocco Grand Tour From Fes departs from Fes and travels to the Sahara Desert, taking in the city's highlights as well as the famed imperial capitals and old Portuguese coastal cities of Morocco. It also stops in Fes and its historic Old Medina. Continue from Fes to Merzouga for a camel ride and an overnight stay in a tent in the desert. 
We will travel through the magnificent gorges in Todra and Dades to reach Ouarzazate, which is home to the Unesco-listed Kasbahs of Ait Ben Haddu and the Marrakech, the Red City and the Pearl of the South, with its magnificent landmarks like the Bahia Palace, the Saadian Tombs, the Koutoubia Mosque, and the Djamaa Lafna Square. From Marrakech, the trip continues to Portuguese cities in Essaouira and el Jadida, back to Fes.
HIGHLIGHTS OF THE 12 Days Morocco Grand Tour From Fes:
Visit the Archeological Site of Volubilis
We will pick you up at the airport and transport you to your hotel or a riad for relaxation to begin this 12 Days Morocco Grand Tour From Fes. If you are already in Fes City, however, we will spend the rest of the day seeing some interesting locations and continue the city tour on the following day. Founded in the eighth century, Fes is one of the earliest imperial towns in Moroccan history. The medina is renowned for having skilled artisans arranged throughout the streets. It is renowned for its magnificent medina, outstanding architecture, and historical landmarks. In reality, Morocco's cultural center is Fes.
Day 2 : private Guided tour (city visit)
Full private day w With an English-speaking city guide, take a daylong guided walking tour of Fes El-historic Bali's medina. The tour guide will lead you through the maze of souks and attractions, stopping at some of the highlights such as the well-known Tanneries, musical instrument makers, carpet souks, and the Fes ceramic souk. Chaowara Over 9000 medieval cobblestone alleyways wind past markets, mosques, Koranic schools, riads, and undiscovered fountains. 
The Zaouia Moulay Idriss or shrine, the Bad Boujloud ornate gate, the Al-Kairaouine Mosque, the oldest university in the world, the Al-attain Medrasa, the Nejjarine Fountain, King's Place, and the Jewish district, often known as "Mellah," are all places worth visiting. As much as feasible will be included in your day by your guide. In the Riad at night
Day 3: Fes – Ifrane - Cedar Forest - Erg Chebbi
Morocco's grand tour departs from Fes and travels to the Sahara desert. Therefore, after breakfast in Fes, we will travel to the desert, passing through a cedar forest, the Midelt Atlas Mountains, the Errachidia Water Dam, the picturesque Ziz Valley, the city of Erfoud, also known as "the gate to the desert," and the location of the museums that house high-quality dates, fruit, and fossils. 
The Erg Chebbi desert dunes, which provide some fantastic views and sceneries of the Sahara sand stretched in the vicinity, are where we shall watch the sunset. After that, we will travel to Merzouga's desert camp to spend the night.
Day 4: Erg Chebbi – Desert Journey
Following breakfast, we'll explore the dunes. We will travel to the Merzouga oasis, the Tissardmine oasis, the Mifiss mines, the desert plateau, and the nomadic people living in their customary wool tents. We'll return to our lodging by 3 o'clock. Later, we'll take a Camel Ride through the sand dunes to witness and capture the beautiful sunset, which is one of the best keepsakes to bring home from the Sahara desert. 
We'll also spend the night at the oasis in the middle of the sand dunes, two hours from your hotel. After listening to local music and relaxing by a campfire, we will head to comfortable, traditional, but secure nomadic tents for the night. Don't miss the wonderful night!
Day 5 : Merzouga – Erfoud - Todra gorges – Dades gorges
To get to Tinghir, where we will see the "Fougartas," an ancient sewer system from the XVth century, we will leave the dunes behind and travel towards Erfoud. After arriving in Todra's gorges, where we will stop for a meal and take in the view of the enormous canyon, we will also take a look at the Tinghir palms. 
In order to reach the Dades gorges, we will then travel through the city and the Boumalne Dades valley. There, the river's influence on the rocks resulted in a stunning environment. In a magnificent five-star hotel, dinner, and overnight.
Day 6 : Dades – Boutaghrart – Skoura – Ouarzazate
More surprises await us on our Grand Tour. We continue on our journey in the morning to the stunning Berber village of Boutghrart and the rose valley, where we will stop for tea with a local family. We'll continue along the road of the 1,000 Kasbahs. We'll make stops along the way to see various casbahs, scenery, valleys, and nomads leading traditional lives. 
After arriving in Skoura, we'll move on to the Ait Benhaddou Casbah, which served as the backdrop for several films (including Sahara, Obelix, Gladiator, and Lawrence of Arabia). Overnight in the hotel after dinner.
Day 7: Ouarzazate - Ait Benhaddou – Telouet – High Atlas Mountains - Marrakech
We'll visit the magnificent kasbah of Ait Benhaddou, which served as the backdrop for several movies, including Lawrence of Arabia. Telouet is another fascinating place to see. We will travel to Marrakech in the late afternoon, passing over the scenic Tizi n'Tichka Pass (2260 meters above sea level). At Marrakech, we'll stay the night in a riad.
Day 8: Marrakech With A Local Guide
Marrakech is an essential stop on your trip through Morocco; it is a popular tourist destination. We'll take a stroll past Marrakech's most significant historical sites, including the old medina, tombs, mosques, kasbahs, and the well-known Jemaa El Fna plaza. We'll see why it's referred to as Morocco's tourist capital. 
For additional in-depth knowledge, you can also take a private, guided tour of the city with an authorized tour guide. The same hotel or riad will serve as our home for the evening.
Day 9: Marrakech – Essaouira
It takes 2.5 hours to drive from Marrakech to Essaouira on this day excursion. We'll go to the wooden crafts museum there, which is housed in an old palace. A sentry tower and Skala's auxiliary harbor are present. We will look out at the city, the islands, and the coast from this port. There are numerous goods available for purchase at the gate that connects the city and the harbor. 
The medina's winding lanes are lined with artisans making a wood, jewelry, etc. They are positioned underneath the city's bastions. There are some Spanish cannons from the 16th and 17th centuries on the upper side. Finally, we return to Marrakech and stay the night in the same Riad where we spent the previous two nights.
Day 10: Marrakech – Casablanca
From Marrakech, we will go to Casablanca. We'll go to the mosque built by Hassan II, the medina, and a few more hips, contemporary areas of the city. In Casablanca, we'll stay the night in a hotel.
Day 11: Casablanca – Rabat – Meknes
After breakfast, we'll leave for Rabat and stop briefly at a few historical sites before continuing on to Meknes. Sultan Mulay Ismail's EL Mansour enormous gate helped the city of Meknes enter its golden age. Volubilis, a Roman city, is located 27 kilometers from Meknes. Following our tour of the Roman city, we will go to Meknes. We will next take a stroll across the city, visiting places like Bab Mansour, El Hedime Square, and the Moulay Ismail Tomb. The night will be spent in a hotel.
We will drive to Fes, where our "Morocco Grand tour from Fes" started, and drop you off at the airport. Here we come to the end of this 12 Morocco Grand Tour from Fes.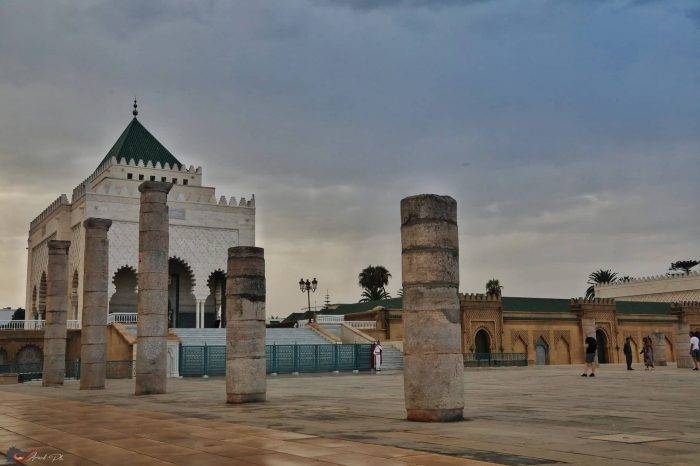 3 day trip Fez to Marrakesh Amazing trip! We had Mohammed as a guide and he was so sweet and caring. The advantage of being in a small group is that you get to stop wherever you want to take pictures, you simply need to ask! We are backpackers so we weren't too sure about the hole organized trip thing but it was perfect as we were in a small group and had a lot of freedom! Thank you so much Mohammed for this amazing time!
Viagem Incrível A viagem foi incrível, curti vários lugares, experiência única que vale muito a pena, um país com uma cultura marcante e pessoas acolhedoras, recomendo conhecer Marrocos.
"Magical Trip in Morocco" I'm so glad I found this travel agency to be my host in my trip. They provide extraordinary programs, which we wholeheartedly recommend to all who want to see the real Morocco. The food and clothing that this country have are very unique and worth the whole way here, and sleeping in the desert camp under the open sky, where only the sky is our blanket is magical. You can go by riding camels or take a 4×4 they back to the hotel which gives you the choice to choose your best way. The attendants are very kind and provide a high quality service. If you are planning to visit this wonderful country, make sure to rely on this agency and you are guaranteed to have a magical experience. Add this in the end... Thank you Hassan, and see you soon again Let's Visit Morocco
A New Fave Destination "Expectation vs. Reality" the line I want to describe about Morocco.😊 At first, I don't have high expectation about the country but when I landed on it, I felt "WOW". I felt like I am in my comfort zone. The travel agency is so accommodating and friendly. They entertain and guide all of us in every destination. So far, All of the places had a really great impact just like ice cream that have so many flavors that in every taste of it, you feel satisfied! It was really a great experience and a new fave destination that I want to go back and where my heart felt at ease. I really recommend this place and the travel agency for a worthy and memorable travel. ❤️❤️❤️❤️❤️❤️
Incredible and exotic Morocco worth a visit more than looking at pics or videos. Amazing food, accommodations and wonderful sightseeing and World Heritage sites. Highly recommended!!! Come travel, explore and discover Morocco!!!
"lo mejor de lo mejor" "Marruecos es un gran lugar para visitar y el uso de los servicios de esta compañía lo haría muy especial y memorable. Excelentes servicios y muy amigables y responderían todas las preguntas necesarias para conocer este país cultural"✌️😇
Paseo 🙂 Fuimos a Marruecos con mis amigos y fue una experiencia muy agradable, una organización increíble y el servicio que prestaban era impresionante,te explican muy bien si tenías alguna duda. La gente que trabaja es muy amigable y sociable. Pasamos un paseo inolvidable y la experiencia adquirida fue única, muy recomendable visiten Marruecos no se arrepentirán.
Grandes vacaciones Marruecos maravilloso Un viaje excelente, con un servicio de primera. Quisiera volver a repertir esa experiencia maravillosa.
Why don't you take the opportunity now? The tours offered here show a very attractive point of view of Morocco, definitely recomended! The guide Hassan will welcome you, and solve all of your questions in a way that will make you feel like at home.
"Marruecos con let's visit Marroco" Gran tour a Marruecos, los lugares, la historia que te explican, la paciencia que tiene al explicar todo, mostrar la cultura del lugar, muy recomendable 👌.
Note:
Please If the itineraries we offer do not meet your needs, please contact us. and tell us about your ideas, and one of our experts will contact you to help you create a one-of-a-kind trip…