Best 2 Days Fes To Desert Tour
Why BOOK this 2 Days Fes To Desert Tour?
Our 2 Days Fes To Desert Tour is great for individuals who like to see and hear as much of Morocco as possible in a short amount of time. The 2 Days Fes To Desert Tour transports you from the sensory highs of Fes to the serenity of the Sahara desert.
If you only have two days in Fes, we invite you to take a private 2 Days Fes To Desert Tour that passes through the Atlas Mountains, Palm Groves, and the golden sand dunes of Erg Chebbi. You can also enjoy a camel trek, watch the sunset and sunrise, and spend the night in a Berber tent beneath a galaxy of sparkling stars.
We provide individual tours from Fes to the Merzouga Desert in 2 days or more.
Please feel free to contact us at any moment if you are interested in the 2-day desert tour with guaranteed pricing from Fes to Merzouga Desert. The cost is determined by how many travelers are in your group and the kind of desert camp you like to stay in (Standard or Luxury).
Spend a memorable night in one of the best-selected Standard and Luxury desert camps in Merzouga Sahara, Erg Chebbi dunes, when you book a 2 Days Fes To Desert Tour To Merzouga Desert with Let's Visit Morocco.
HIGHLIGHTS OF THE 2 Days Fes To Desert Tour:
On this 2 Days Fes To Desert Tour to Merzouga, your private driver will pick you up from your hotel at 8:30 am and take you via Azrou, the cedar forests, and Ziz Gorges to the desert village of Merzouga.
You will pause for lunch in a Berber café on this fascinating road. Arrive at the Erg Chebbi dunes' edge, take a camel with a guide, and spend the night among the dunes.
It is advised to get up early in order to enjoy the sunrise from the top of the Chebbi sand dunes. You will have a shower and eat a delicious Berber breakfast at the Merzouga desert camp before setting out on a camel journey back to the starting point where you will meet your driver.
You will depart from the camp for Fes via the High Atlas mountains after breakfast and a shower. We'll travel past Rissani, Erfoud, Errachidia, and Midelt en route. Before reaching Fes, where we'll drop you off at your riad or hotel, we'll stop for lunch and take pictures of wild monkeys in the Azrou Cedar trees.
Additional info about the 2-Day Fes Desert tour to Merzouga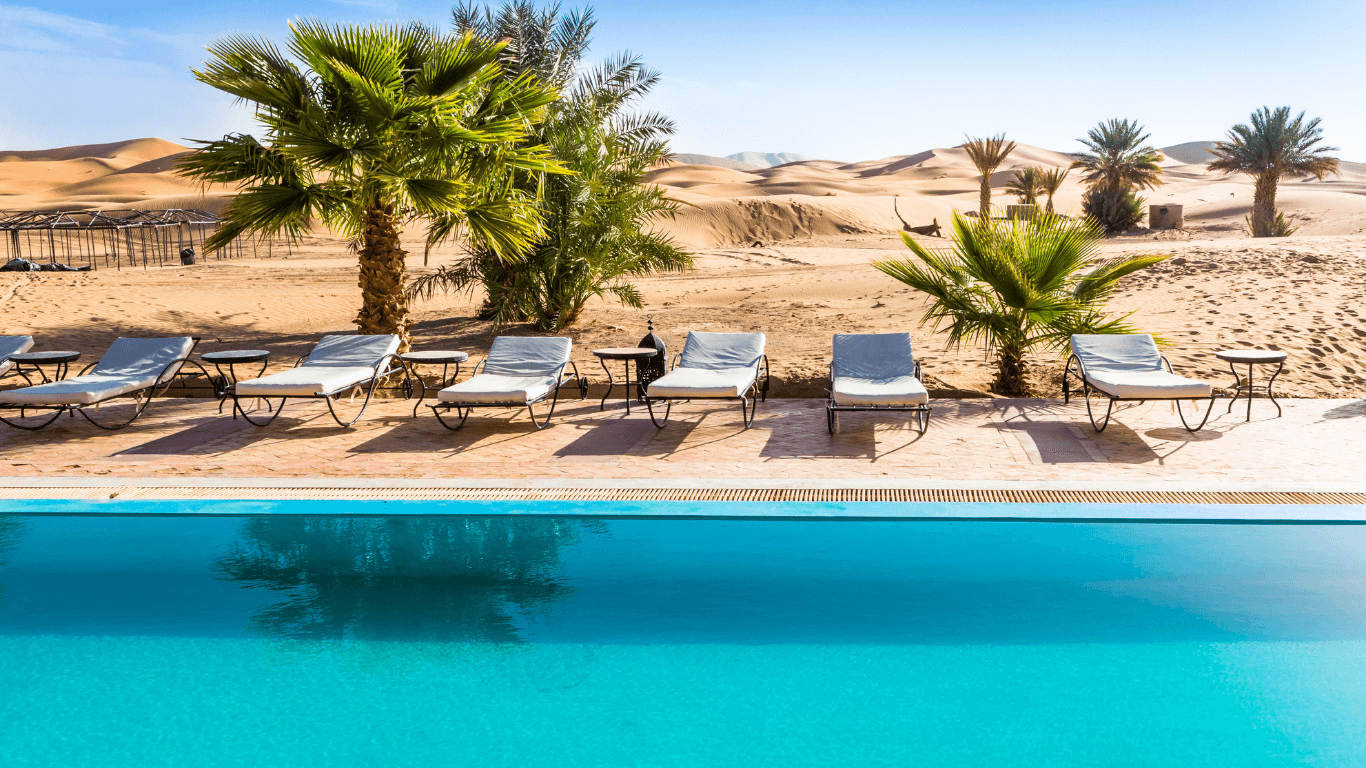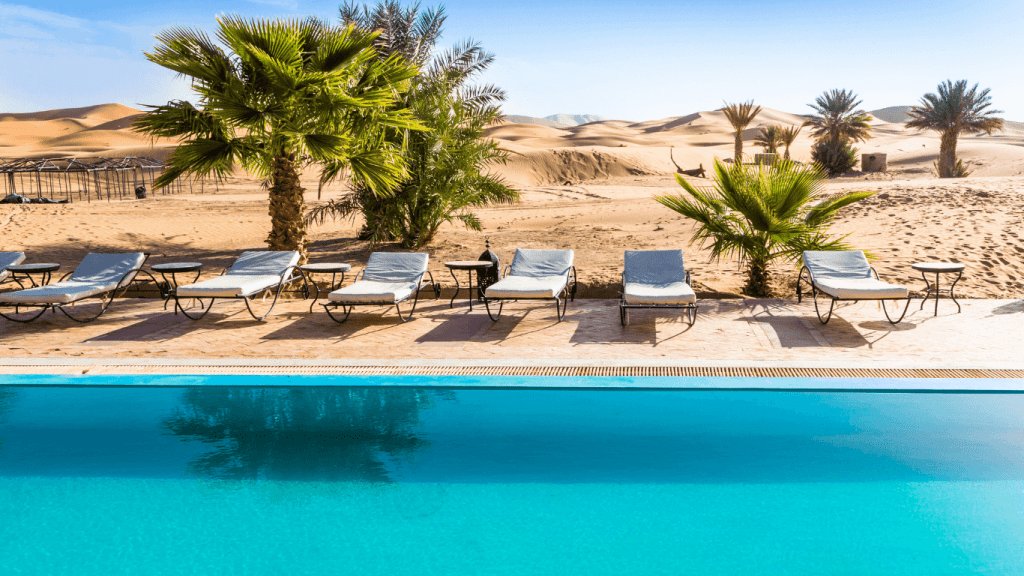 The cost of this private 2 Days Fes To Desert Tour differs depending on the type of accommodations, number of travelers, and the amount of time spent in Morocco.
The tour will cost less per individual as the number of participants increases.
If you have any questions, please contact us so that we can create the finest tour possible for you. Submit your inquiry via the following contact form.
Why reserve with Let's Visit Morocco?
Great experience Fantastic one day trip from Marrakech to Ait Benhaddou and Ouazazate...we really enjoyed every minute. We had the nicest and most reliable driver...look very much forward to going on other excursions with you next time we are in Morocco 👍🌞
unforgetable experience We had been wanting to know Morocco for many years and we have loved the country, thanks to you and Hassan it has been an incredible experience. Highly recommended and surely if we return we will see each other again. Thanks for everything
Magical time I met Hassan on Instagram and he made the time spent together unbelivable magical. He organized everything perfectly so I had a amazing experience: beautiful views, delicious food, good time! I recommend him!
PERSONAS INCREÍBLES EN UN PAIS MARAVILLOSO Viaje apasionante, dirigido por personas maravillosas, no tengo espacio suficiente para describirlo todo, y para agradecerle a Hassan, el trato recibido, la organización, el equipo, y todo lo vivido gracias a su implicación para que todo fuera perfecto, gracias por su sonrisa interminable. Lo recomiendo para todo el mundo, y para todas las edades. Algunos se llevan arena en botellas para recordar el desierto, yo me llevo el desierto y a su gente en mi corazón para siempre. Ciudades increíbles, con lugares preciosos de encanto inigualable. En cuanto pueda volveré. Millones de gracias Hassan.
great trip to morocco The whole trip was wonderful, organized, good car, guide, riads, hotels, tours, we enjoyed a lot and had a great time, better than our expectations, I recommend it without a doubt! The Saara desert, Chefchaouen, Marrakech, the Medina and the riads are experiences that everyone should have.
3 day trip Fez to Marrakesh Amazing trip! We had Mohammed as a guide and he was so sweet and caring. The advantage of being in a small group is that you get to stop wherever you want to take pictures, you simply need to ask! We are backpackers so we weren't too sure about the hole organized trip thing but it was perfect as we were in a small group and had a lot of freedom! Thank you so much Mohammed for this amazing time!
Viagem Incrível A viagem foi incrível, curti vários lugares, experiência única que vale muito a pena, um país com uma cultura marcante e pessoas acolhedoras, recomendo conhecer Marrocos.
"Magical Trip in Morocco" I'm so glad I found this travel agency to be my host in my trip. They provide extraordinary programs, which we wholeheartedly recommend to all who want to see the real Morocco. The food and clothing that this country have are very unique and worth the whole way here, and sleeping in the desert camp under the open sky, where only the sky is our blanket is magical. You can go by riding camels or take a 4×4 they back to the hotel which gives you the choice to choose your best way. The attendants are very kind and provide a high quality service. If you are planning to visit this wonderful country, make sure to rely on this agency and you are guaranteed to have a magical experience.Add this in the end... Thank you Hassan, and see you soon again Let's Visit Morocco
A New Fave Destination "Expectation vs. Reality" the line I want to describe about Morocco.😊 At first, I don't have high expectation about the country but when I landed on it, I felt "WOW". I felt like I am in my comfort zone. The travel agency is so accommodating and friendly. They entertain and guide all of us in every destination. So far, All of the places had a really great impact just like ice cream that have so many flavors that in every taste of it, you feel satisfied! It was really a great experience and a new fave destination that I want to go back and where my heart felt at ease. I really recommend this place and the travel agency for a worthy and memorable travel. ❤️❤️❤️❤️❤️❤️
Incredible and exotic Morocco worth a visit more than looking at pics or videos. Amazing food, accommodations and wonderful sightseeing and World Heritage sites. Highly recommended!!! Come travel, explore and discover Morocco!!!
Note:
Please If the itineraries we offer do not meet your needs, please contact us. and tell us about your ideas, and one of our experts will contact you to help you create a one-of-a-kind trip…
For personalized excursions, you will be the only passenger in the car.
Each couple has their own room in the hotel or riad, as well as a tent in the desert camp, out of respect for your family circumstances.
You don't need to bother about a meeting spot; just tell us the address of your hotel, and we will come to pick you up.