The life of a nomad adventure began when we stepped out of our ornately designed hotel, complete with mosaics and a magnificent foyer fountain, into the sweltering Moroccan heat, then into an air-conditioned vehicle where our Moroccan guide Youssef awaited us.
We headed off towards the Sahara with our bags, cameras, and an overabundance of water bottles. We felt the exhilaration of being on the road again as we left our Marrakech hotel, which had been our home for 10 days, and watched the interesting array of modes of transportation battle their way along the busy road behind us.
They weaved in and out in complicated patterns, from donkey karts to mopeds, in an attempt to seize the lead in their fictional race across the busy streets. Soon, though, we were out of the throngs of the city and driving down quiet rural roads, the Atlas Mountains in the background looming closer with each passing mile.
          We traveled by vehicle for two days to reach the Sahara, passing through the harshest, most barren, and the breathtakingly beautiful environment we could conceive. Our guide drove us via the Tizn'Tichka pass, which passes over the Atlas Mountains and the beautiful Draa River Valley, passing past communities with waving youngsters who were delighted to see someone pass by their lonely homes.
          We picked up Youssef, our camel guide, at M'hamid. He took us inside his home, a simple clay and straw hut with two rooms, one of which was sparsely equipped with a variety of vividly colored and intricately patterned carpets, a small circular table, and a little television! In a residence with no windows and only a portrait of the king and an excerpt from the Quran on the wall, the TV appeared curiously out of place.
         The other room was empty, but his wife and four children were content to play and periodically peer curiously through the door at us, smiling and giggling.
We took off our shoes and sat on the carpets while being served mint tea and cookies. My main regret at the moment was that I was unable to communicate in the language. His wife and children were warm and kind, and their grins said a lot, but being able to properly show our gratitude for their kindness would have made me very happy.
          From the glass of the vehicle, we observed as the scenery transformed from hilly to rocky with a few shrubs, then to a barren environment. We observed as the number of live things decreased, from donkeys and goat herds to just a few birds.
However, we were taken aback when passing a small flock of birds when Mohammed leaped out of the moving vehicle and chased us over the desert floor. With his Jellaba (a traditional Moroccan robe akin to a kaftan) and turban flapping wildly in the wind as he rushed, arms widespread like a giddy child after one of the birds, it was a hilarious sight. We stood there, puzzled and delighted by the strange sight, and marveled as he grabbed one of these amazingly fast-footed birds.
However, we had the sobering idea that possibly this frenetic chase was to retrieve tonight's supper, and I began to fear what would happen to the unfortunate bird, as well as how I would respond if this were to be its fate. However, I was pleasantly delighted when Mohammed proudly handed this bird to us simply to show us before gently releasing it. With a huge smile on his face, he climbed back into the vehicle as if the whole thing had never occurred.
We arrived weary, sweaty, and hungry at the Erg Chigaga, dunes in the Sahara desert, after a bumpy but exhilarating journey across more sandy and isolated desert territory.
When we arrived at our desert tent, though, the sight of the dunes melted all of our tiredness away. The golden dunes loomed over us, accentuated by the sunset sun and as smooth as silk, as we looked in wonder.
  As we climbed the dunes that night, we could have been the only humans on the planet. Our vitality was depleted as we fought the wind and sand, which stung and blew our faces and dripping perspiration. We hid our faces under scarves and continued climbing, our feet sinking and slipping further into the scorching sand with each step.
      When we sat on the top of the tallest dune, though, it all seemed worthwhile. The dunes behind us extended to the horizon like a crumpled golden silk blanket, emphasized by the African sun, and it was difficult to imagine they had come to any kind of conclusion as they seemed to flow, seemingly unaffected, to the end of the world. Except for the occasional trail of a sandfish and the tell-tale hole where it had fled down to escape the strong heat of the sun, the ripples and waves were untouched like a sea of fine sand.
       We felt the temperature drop and the dunes get black as we watched the sun descend from the sky in a magnificent and surprisingly rapid, sunset. As we absorbed the ambiance of this wonderful area, we were enveloped in stillness and tranquility. The dunes' grandeur and vastness stayed with me for the rest of my life.
       Our Berber hosts had prepared our evening meal of vegetable soup, chicken tagine, and melon when we finally descended, taking the fun route down, leaping and bounding with much laughter. One of the Berber tents was filled with the enticing aromas of the herbs and spices that had been steeped in the tagine. We ate by candlelight, allowing our senses to soak in the night's sights and fragrances.
       After that, we sat on cushions outside our tents with other campers, staring up at the incredibly starry sky, which appeared to contain every constellation known to man, and listened to the Berbers play traditional instruments in front of us. As they sang song after song, urging us to dance and immerse ourselves in their little celebration, their warmth warmed us.
        We were astounded by the Berbers since they had so little, yet the pleasure on their cheeks indicated how happy they were with what they had. We would frequently hear Berbers singing while lounging on the sand dunes or laughing as they shared stories and jokes.
        That night, we slept in our sweltering Berber tent, a tiny house with clay and straw walls and a camel hair cover. It was simple, to say the least, but there didn't appear to be any other necessity in that setting.
       We spent an extremely hot night in the tent, with sand showering on our faces with every wind blowing through the roof, so we were relieved to spend some time the next day in a tiny shelter and escape the heat. Our tour guide, Youssef, spent a lot of time pouring and re-pouring mint tea.
        The more you can pour it and the higher you can pour it from, the better, even if it means losing half of it as it spills all over the table. I should remind out that mint tea is an acquired taste, and I tried all I could to respectfully avoid drinking more than one glass of it. With several rugs on the floor, a few tables, and some cloth and straw to shield us from the sun, the shelter was quite wonderful.
       We spent the majority of our day there, and I couldn't imagine how the Berbers who live there spend their days. I spent a lot of time drinking tea and talking, but I couldn't think of anything better to do with my time.
         With a happy expression on his face, Mohammed, our camel guide, talked with the other Berbers. Despite the fact that I didn't understand the language, his face was full of personality and practically told stories on its own, displaying a lot of energy and enthusiasm as he enthralled a group of Berbers with his anecdotes. I'm not sure what these stories were about, but simply being in his presence was an adventure in and of itself.
         We returned to our desert tent that evening and spent the evening on a sunset camel walk. We heard stories of lost goods and camels pushing people off and running with their luggage after speaking with other tourists at our tent the night before. Overcoming our fears and keeping our belongings safe in our pockets, we had a unique experience with our camels, who were very relaxed and friendly as they plodded through the dunes.
         As I wore my western sunglasses and scarf, I noticed my camel's long eyelashes shielding its eyes from the sand blowing in the wind! The experience was fantastic, and there's no better way to see the sunset in the desert than from the back of a camel, swaying slowly from side to side.
         After another scorching night in our tent, we felt a weird mix of relief and melancholy as we left the dunes the next day. I felt a newfound admiration for the Berbers for coping so effectively with the severity of their surroundings and the heat. Mohammed scoffed at our profuse sweating while boasting about wearing three layers and barely sweating an ounce!
         We felt a strange mix of relief and sorrow as we left the dunes the next day after another hot night in our tent. I have a newfound respect for the Berbers for being able to cope so well with the harshness of their surroundings and the heat.
        Mohammed mocked our heavy perspiration, bragging about how he wore three layers and didn't sweat an ounce! Although this is perhaps at the extreme end of minimalism, it was a fantastic eye-opener in terms of demonstrating that you can be incredibly happy even if you have no physical belongings.
         I also realized how much I had loosened my cleaning procedures, which seemed meaningless and flamboyant in this atmosphere, when I was covered in sand and perspiration, possibly stinking a lot…but completely pleased.
The life of a nomad…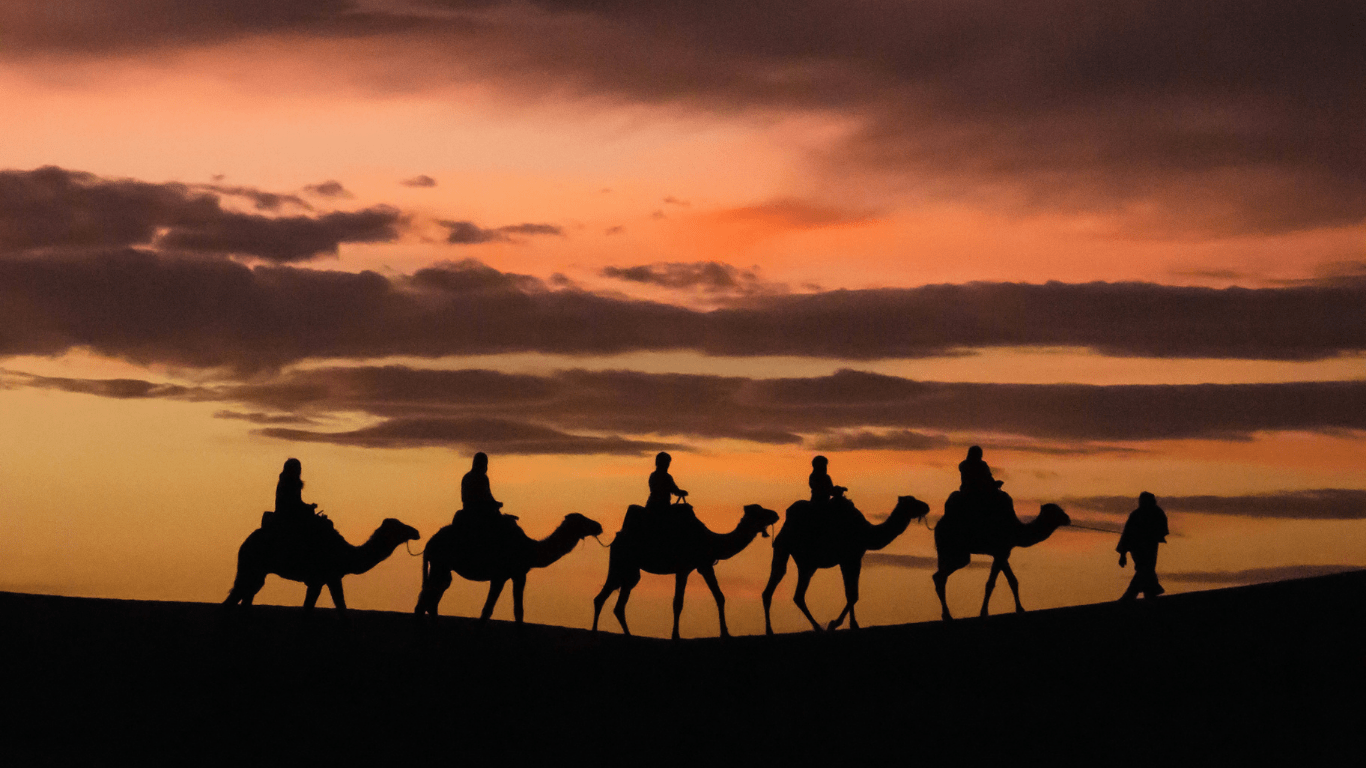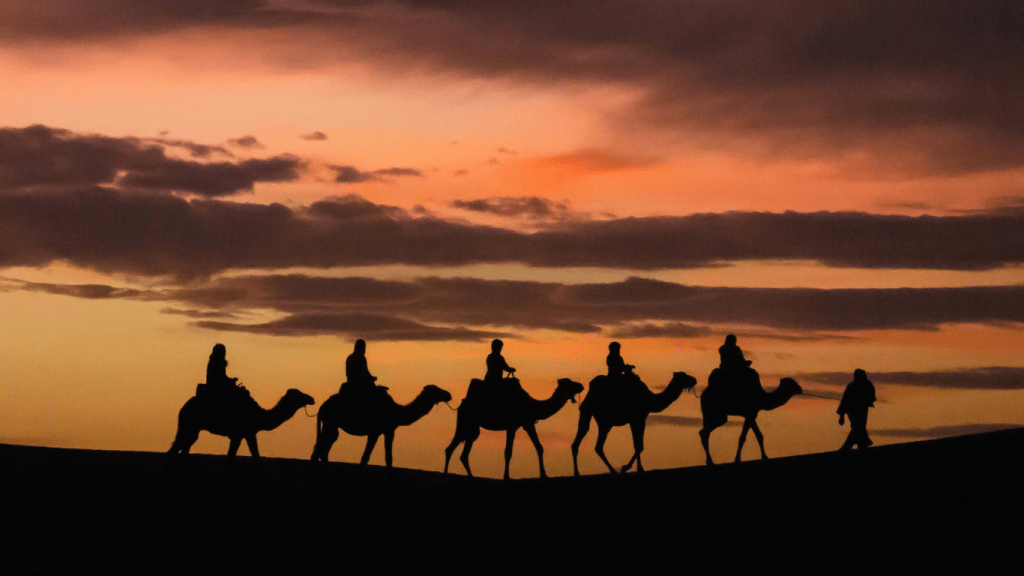 Signup our newsletter to get update information, news & insight.
Best 10 Reasons To Visit Morocco