Best 13 DAYS TOUR FROM CASABLANCA TO MARRAKECH
Overview
This 13 days tour from Casablanca will begin in the biggest city in the country and travel through Chefchaouen to the Sahara Desert. We will visit Casablanca mosque, tourist sites in Rabat (Hassan Tower, Oudaias, Meknes (Moulay Ismail Mausoleum, Sahrij Souani Bassin, Bab El Mansour gate…), Volubilis, and you will have a full day to visit Fez, the old Imperial City, Ifrane, "The Moroccan Switzerland," and Azrou, where we will stop at the famous cedar forest, Morocco's largest, to see We will visit Merzouga Sahara Desert: Erg Chebbi, camel ride, dawn and sunset, night in a Saharan camp between dunes, Gnaoua music in Khamlia, Draa Valley, and Dades Valley during this tour.
UNESCO World Heritage Site, Ouarzazate, Kasbah Ait Benhaddou, and Marrakech sightseeing. such as the Majorelle and the Menara gardens, the Saadies tombs, the Bahia Palace, the Koutoubia Minaret, and more. Finally, you will have dinner and spend the night in Marrakech.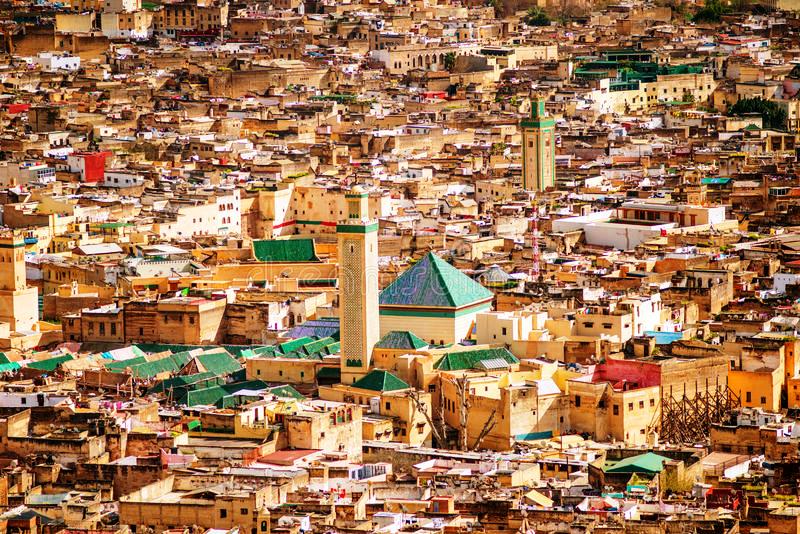 Day 1: Casablanca
Our 13-days tour from Casablanca begins with a pick-up from the Casablanca airport, followed by a transfer to a hotel where you can store your bags. We'll pay a visit to the world-famous Hassan II Mosque, which is the third-biggest mosque in the world and the largest in North Africa.
Day 2: Casablanca – Rabat – Chefchaouen
After breakfast, then travel for Rabat, Morocco's capital. Upon arrival, we will have a historical guided tour of the city, including Mohammed V's Mausoleum, Kingdom Palace After that, we will travel to Chefchaouen, also known as the Blue City, which is one of the most picturesque settlements at the foot of the Rif Mountains. The medina of Chefchaouen has a Spanish-style square surrounded by numerous quirky arts and crafts boutiques, roof-top restaurants, and cafés where you will spend the night in a beautiful area to enjoy the breeze and the beauty of nature, overnight in the Hotel.
Day 3: Exploring Chefchaouen
We go on a tour of Chefchaouen (The Blue City), a little city in the Rif Mountains, after breakfast. The city was founded in 1471. The name Chef Chaouen comes from a Berber word that means "look at the horns." Chefchaouen is a charming town where you may trek and relax. You will walk inside the old city of Chefchaouen and visit Rass El Ma (The Head of the water).
Ras El Ma is the source of water that is used by the city for irrigation and laundry. This is a public area where local women wash clothes and blankets. When you finish your tour you will settle down in your Riad or Hotel for the night.
Day 4: Chefchaouen- Volubilis- Fes
After breakfast, we'll drive across the Rif Mountains and into the Middle Atlas Mountains to see the Volubilis Roman remains, Morocco's most important archaeological site. After continuing to Fes through Meknes, Morocco's capital during Moulay Ismail's rule, you will continue your travels to Fe and check into your accommodations.
Day 5: Fez Guided Tour
Fez, the oldest of the imperial towns, is home to the world's first university, which dates back to the 9th century, and is one of the most intact medieval cities in the world. It appears to be stuck in a time warp, somewhere between the Middle Ages and the current era, surrounded by massive defensive walls. In the old Medina, we will have a local guide who will take us to the famed tanneries and the Karaouine mosque.
Following lunch at a traditional Moroccan restaurant in Medina, you'll visit the Merenid tombs and enjoy a breathtaking panoramic view of the city. Make your way to your hotel.
Day 6: Fez – Ifrane – Imilchil – Gorges of the river Todra
We'll begin our day by going to Ifrane, often known as the "Switzerland of Morocco." It was given this name because of its distinctive weather and architecture, which makes Ifrane one of Morocco's most attractive cities. After we've finished visiting it, we'll travel to Imilchil, a nearby Berber settlement.
Imilchil is well known for hosting an annual marriage celebration (late August-early September), which is based on a legend about a young couple who were forbidden from marrying because of their clans. UNESCO has designated this celebration as an official Intangible Cultural Heritage. Finally, we'll continue south until we reach the famed Todra gorges.
Day 7: Todra Gorges – Erg Chebbi – Camel Trekking
After breakfast, you'll begin the most extensive tour of the dunes, passing through several Berber communities. You'll stop at Khamlia village, a typical residence built of thick mud bricks made from a mixture of clay, to listen to live Gnaoua music performed by the residents. Set out on a journey to various locations where you will "live like a nomad" and enjoy the humble life by visiting them in their tent.
Enjoy the panoramic sight of black volcanic rock on the plains, brilliant blue sky, green palm palms, white salt beds, water mirages, and golden changing dunes at the Erg Chebbi sand dunes, Morocco's biggest. Arrive at the magnificent hotel and spend the second night in a Berber tent at the hotel, then spend overnight in the camp.
Day 8: Rissani- Todgha Valley- Dades Valley- Ouarzazate
Early risers will be rewarded with spectacular dawn when the color of the dunes and the dance of shadows create a breathtaking picture. following breakfast and a shower We'll take a different route to Ouarzazate, passing via Tafilalet's massive palm forest, Rissani, and Erfoud, which is famed for its petrified marbles, where you'll visit a marble fossil workshop.
Continue to Todra Gorges for lunch; it's a great spot to roam around and explore on your own. After driving to Ouarzazate through Dades Valley and Kelaa Mgouna, we continue on the Thousand-Kasbah Road, passing past the Skoura palm plantation, till we arrive in Ouarzazate, dubbed "Hollywood of Morocco." After visiting the town of Ouarzazate: the Kasbah of Taourirt and cinema studio, then check into your accommodation.
Day 9: Ouarzazate- Ait Ben Haddou- Atlas Mountains- Marrakech
After breakfast, we go to Ait Benhaddou, a "fortified city" on the historic caravan route between the Sahara and Marrakech. It is located on a hill overlooking the Ouarzazate River and features several stunning Kasbahs, some of which are still inhabited. The monument, which has been designated as a UNESCO World Heritage Site, has been used as the backdrop for several films, including Lawrence of Arabia and Gladiator.
After stopping for lunch, proceed to Marrakech through Tizi-n-Tischka, one of the Atlas Mountains' highest mountain crossings (2260 meters). We'll take a break and have some Moroccan Tea, often known as Berber Whisky. Continue on to Marrakech and settle into your hotel.
Day 10: Exploring Marrakech
After breakfast, you will explore the city of Marrakech. The name Marrakech originates from the Amazigh (Berber) words MUR (n) AKUSH which means Land of God. Marrakech lies at the foothills of the breathtaking Atlas Mountains. You will visit some of the most fascinating sites of Marrakech, starting with the Tombs of Saadians, Palais Bahia, Garden Majorelle, the Koutoubia Mosque, and ending the day in the square of Jamaa Lafna and the Souks. The square of Jamaa Lafna is overflowing with shops, crafts, entertainment, and a host of restaurants.
Day 11: Day Trip To Ouzoud Waterfalls and Return To  Marrakech
After breakfast, we will depart from Marrakech and go via the Middle Atlas' most stunning locations. It's about 180 kilometers from Marrakech and sits at 1500 meters above sea level. It's a small village famous for its 100-meter-high waterfalls, the largest in our country and northern Africa.
You'll also have the opportunity to walk up to the stunts required and then up the 600 steps to reach niche restaurants on the banks via monkeys in the surrounding trees. Where you will spend your day excursion and have your lunch. Return to Marrakesh in the evening and drop off at your hotel. 
Day 12: Day Trip To Essaouira And Return To Marrakech
From Marrakech, take a full-day journey to Essaouira. Spend some time in a relaxed fishing village. Leaving Marrakech at 8:00 a.m., you'll journey over the huge, stunning Moroccan terrain, punctuated by a few isolated settlements and pastures grazing camels, sheep, and goats. Enter the gorgeous blue and white town of Essaouira, popularly known as the Wind City of Africa and a great place to go sailing and windsurfing. You'll see several amazing sights, including the seaport, where the day's fish is discovered by the seamen.
Take a stroll along the sandy beach, which reaches all the way to the south. For years, the laid-back ambiance of this town, along with the magnificent ramparts and sandy beach, has attracted artists and hippies. After that, you'll return to Marrakech for the evening.
Day 13: Marrakech Airport Transfer
According to your flight's departure time. End of our 13 Days from Casablanca imperial and desert tours.
NOTE:

If our 13 days tour from Casablanca does not suit your needs, contact us and we will prepare your trip according to your needs and requirements.
Included in this Tour
A private and very comfortable air conditioned vehicle
Private English speaking driver/guide
Pick up and transfer at your Riad / Hotel / airport
Not included in this Tour
Send Us An Inquiry
When is the best time to visit Morocco?
There is really no time of year where you wouldn't enjoy your trip to Morocco; although you should keep in mind that it tends to get a little too crowded with tourists during the winter holidays season. Then it's up to you to decide what season suits you the best to come visit, according to your schedule and preferences.
The weather in Morocco is more on the mild side during Spring and Autumn (from March to May and from September to November respectively). For these seasons the temperatures could be ranging anywhere from 11° to 32°C. Winter usually lasts from December to February, with a relatively low temperature range (7° to 21°C). You should also expect to see snowfall in Morocco's mountainous regions. As for Summer (from June to August), temperatures can land anywhere between 19°C and 40°C in the middle of the day.
When is the peak season to visit Morocco?
The tourist flow in Morocco reaches its peak during December and April of each year, for these are the holiday seasons. The emerging high demand for accommodations during these months makes the prices go up very significantly in comparison to other months, and all of the best accommodations get booked up very early on.
Therefore, if you're thinking of coming during one of these seasons, we suggest you start looking in advance, in order to have enough time to find an accommodation that suits your needs. We would also suggest you avoid these months altogether, so that you'll be able to get the best out of your Morocco experience.
Are the tours private?
Yes! The tours our company offers are all completely private. This will allow to experience Morocco the way YOU want to. In addition to that, you will of course be always welcome to request stops along the way during the tours, in order to take memorable photographs (or whatever other reason you want!).
In case you are interested in booking a group desert tour, please go ahead and contact us to make you the best group tour.
Will the price be the same if we are 2, 3 or more persons?
The price for each individual person participating in the tours goes lower the more people there are in the group participating.
Will the price be cheaper for last minute booking?
Actually, it could be quite the opposite. Our team makes sure to select the best quality accommodations for our clients, and those tend to get booked full pretty quickly, that's why it's not always easy for us to accommodate last minute bookings. Therefore, you shouldn't expect a lower price for such inquiries, but instead a higher one maybe.
To avoid such incidents, we strongly advise you to book your tour with us early on, so that we will be able to pick out the best accommodations for you, and offer you an unforgettable Morocco experience.
Or contact us for more information