2 Days Trip From Fes To Chefchaouen
Start your 2 Days Trip From Fes To Chefchaouen by leaving Fes after breakfast. As you travel through the Rif Mountains' lush, hilly terrain, you'll feel as though you're in California's wine country. By lunchtime, you'll have arrived in Chechfchaouen, also known as the Blue City. Drop your luggage off at the riad and spend the afternoon exploring the village's fairy tale-like streets. In the Medina, you can have dinner and stay the night in a riad.
HIGHLIGHTS OF THE 2 Days Trip From Fes To Chefchaouen:
Day 1: Fes To Chefchaouen Via Ouazzane
On the first day of our 2 Days Trip From Fes To Chefchaouen, we head off for the Blue Pearl Chefchaouen in Fes. Take a scenic drive along the beautiful coastal lowlands. The tranquil blue and whitewashed city of Chefchaouen is located in the vicinity of the Rif Mountains, which are reached by continuing on the route.
Spend the day exploring the welcoming medina's small, blue-washed lanes. Visit the walled Kasbah stronghold, which has lovely gardens and is next to a small museum and art gallery that showcases the vibrant Rif Mountain culture.
View a breathtaking panorama of the blue and whitewashed homes, tiled roofs, and little balconies from the rooftop of the Kasbah. Walk along the neighboring slopes with the amazing and stunning waterfalls after exploring the medina. Wool clothing and woven blankets are only a couple of the native handicrafts that are sold in the town and cannot be found elsewhere in Morocco. Also, well-liked is the local goat cheese. Dinner and a night spent in a hotel.
Day 2: Chefchaouen To Fes Via Volubilis And Meknes
After breakfast, we will go to the well-preserved Roman ruins of Volubilis, which date back to 225 BC. Here, you can witness the most exquisite mosaics in Morocco, which date to the third century BC. After visiting this special location, we'll travel back to Meknes to begin exploring the Medina after stopping by the holy village of Moulay Idriss Zerhoun. This magnificent city served as Morocco's capital for a while under Moulay Ismail, earning the moniker "Ismailian capital of Morocco."
The walled city is another name for it. You will witness the Dome of the Ambassadeurs, the underground Qara Prison, the Granary, the Sahrij Souani basin, the iconic Bab Mansour Gate, and the Mausoleum of Moulay Ismail. You will have some free time in the afternoon to explore the square while being entertained by storytellers, musicians, and snake charmers. Fes overnight where our 2 Days Trip From Fes To Chefchaouen comes to an end. Thanks for your lovely visit!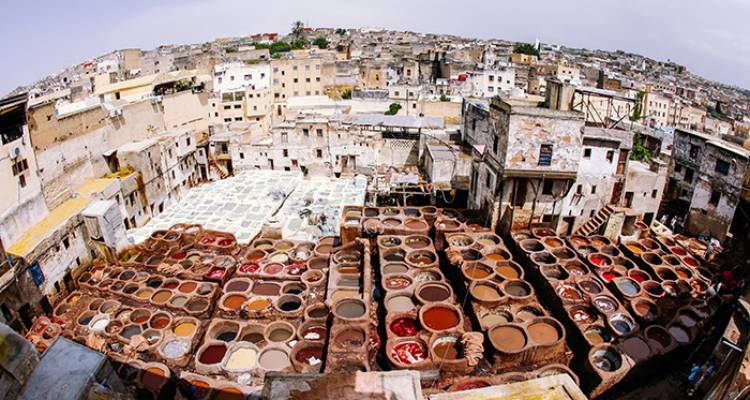 Note:
Please If the itineraries we offer do not meet your needs, please contact us. and tell us about your ideas, and one of our experts will contact you to help you create a one-of-a-kind trip…
3 Days Tour From Fes To Marrakech
4 Days Tour From Marrakech To Fes
5 Days Tour From Marrakech To Fes
7 Days Tour From Marrakech To Desert