3 Days Desert Tour From Fes To Merzouga
The 3 Days Desert Tour From Fes To Merzouga, The greatest route to take to explore the southeast of Morocco is from Fes to the Merzouga Desert, where you can see the top of the Merzouga Sahara, the Erg Chebbi dunes, and a breathtaking sunset before arriving at the desert camp for a fantastic night. The second day of this appropriate Fes desert tour will be spent seeing nomads and all notable locations.
Additionally, we provide 3-day shared tours on Morocco small-group trips from Fes to Merzouga Sahara Desert. Please note that you will only be sharing transportation; for more information, get in touch with us.
With us, you can book a 3 Days Desert Tour From Fes To Merzouga. We provide Standard, Luxury, and Mixed choices.
HIGHLIGHTS OF THE 3 Days Desert Tour From Fes To Merzouga:
Day 1: Fes - Azrou (Cedar forest) - Midelt - Erfoud - Merzouga Sahara
Our 3 Days Desert Tour From Fes To Merzouga begins with a drive through the Middle Atlas and a cedar forest from your hotel or riad in Fez. We travel through Ifrane, a well-known ski resort, and Midelt, a city well-known for its minerals and apples. To get to Erfoud, which is well-known for its fossil products, and subsequently to Rissani, we proceed via Ziz valley.
After that, we meet our desert guide in the Erg Chebbi desert. We enjoy sleeping in a Sahara desert tent at the conclusion of the first day of our three-day desert tour from Fez as we get ready for a camel ride across the Merzouga sand dunes.
Day 2: Merzouga desert tour: Erg Chebbi - Nomad families - Merzouga
It is worth getting up early on the second day of the 3 Days Tour from Fes to Merzouga Desert in order to enjoy the stunning beauty of a desert sunrise and the incredible silence of the Sahara. This is a good opportunity to take in the silence and the shifting hues as the sun rises on the dunes.
You will ride your camel back to the departure point after returning to the camp, where breakfast will be ready and a hot shower will get you ready for the day's adventure.
We will pick you up and begin your Merzouga desert tour, taking you to all the interesting places nearby Erg Chebbi dunes, including the seasonal Lake of Merzouga known as "Lake Sirji," Khamlia Village, where GNAWA music is played, the Mines for a variety of stones known to nomad families as "Mefes," and the RISSANI Market, the largest souk in the region.
After arriving in the afternoon, you'll have the rest of the day to yourself before spending the night in the Merzouga desert at a small hotel or riad.
Day 3: Merzouga desert - Ziz Valley - Midelt - Fes
It's the days you say farewell to the desert, but you will leave with many wonderful memories. You will travel to Fes via Erfoud, a small town famous for carving fossils and marble, and you will take in the stunning scenery of the Ziz Valley and palm groves all the way to Midelt, another small town famous for producing Apples.
Most likely, you'll stop for a little break here for lunch at a restaurant or at the nearby village of Zaida.
then head toward the Azrou Cedar Forest as we make our way back to Fes. Our 3 Days Desert Tour From Fes To Merzouga concludes when you are dropped off at your lodging when you arrive in Fes at 6 o'clock.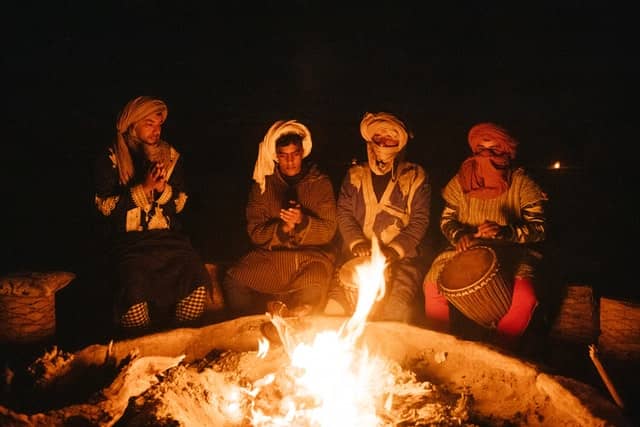 Note:
Please If the itineraries we offer do not meet your needs, please contact us. and tell us about your ideas, and one of our experts will contact you to help you create a one-of-a-kind trip…